Earthquake in China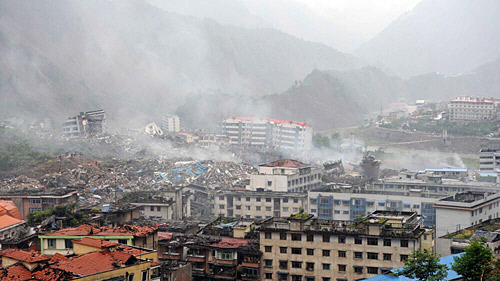 On April 20, 2013, an earthquake struck the southwestern Chinese province of Sichuan. The rescue mission is still continuing with 11,500 people injured and others remain missing. This earthquake had a 7.0 magnitude, and killed at least 188 people. A rescue force of 23 helicopters from the armed forces along with more than 18,000 soldiers and police are helping to aid people in this disaster.
The quake struck shortly after 8am Saturday morning about 71 miles from the provincial capital of Chengdu. It began at a depth of seven miles. According to the U.S. Geological Survey, it had a 6.6 magnitude, but the China Earthquake Networks concluded it was a 7.0 magnitude earthquake. The destruction didn't stop after the initial earthquake and aftershocks continued with magnitudes as strong as 5.1. There has been about 710 of them, some even damaging buildings that haven't already been knocked down.
People whose homes have been destroyed are complaining they have not received food or water. Officials said that trying to get to everyone is the biggest struggle.  Landslides have restricted access to areas that suffered the most devastation, making it difficult for rescue teams to locate people and they are likely to find more casualties. 8,200 people have been taken to hospitals all across Sichuan, one of them being a nearby outdoor hospital that was built right by Ya'an, the city closest to the quake. Power and water supplies in the Lushan county has gone out. Also, the main food farming areas have been hit the hardest. "The biggest problem is that the worst-hit spots are spread out in the mountains and it is very hard for rescuers to get the injured people out," said Zhou Shaohua, chief surgeon at the People's Hospital of Lushan.
This event stirred up memories of Sichuan citizens of an earthquake that occurred five years before this event 7.9-8.0 magnitude which killed over 87,000 people a little north of this one. Luckily, the recent quake didn't do as much severe damage as the 2008 one.