Winter Weather Welcomes New Sports
It's winter time which means baseball, softball, and cross country for Horizon Honors' middle school. Here is the inside scoop on each of the sports.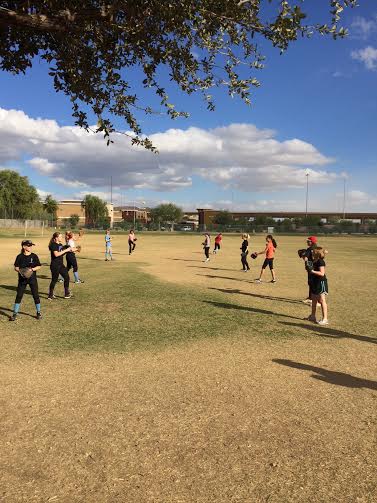 Horizon Honors' middle school is getting geared up for winter sports. Whether it be cross country, baseball, or softball, we got you covered. The coaches for each team explain their hopes as they start the 2015 winter season.
Softball
Coach David Dinardo has high hopes for the season and his team. He said that many of the girls are returning from last year so this year's team should have a good amount of experience. As for his past experiences with coaching, Dinardo said that, "This is my seventh season at Horizon [Honors]. I enjoy teaching the girls the game through skill development, strategy, and game competition and seeing them improve throughout the year. Also, I want them to have the experience I had with competing for a school team when I was younger." Coach Dinardo is excited for this season and he can't wait to see what the girls bring to the table this year!
Baseball
Baseball for middle school is here! Coach Dale Murawsky says he is confident about this season, because he chose such great players to represent Horizon Honors. In terms of his athletic experiences, he said the he had "been involved with the sport for almost his whole life!" As far as coaching, he has coached baseball before and can't wait to see what this season brings. Murawsky says he has very high expectations for his boys: he expects high grades as well as full effort at games and at practices. After tryouts, 12 boys will make the team and then they start practicing.
Cross Country
An interview with Coach Beets shows that she is very excited for this coming season. After asking her how she was feeling about this season, she happily told me that she was excited and ready to go into the "unknown" as this is her first year coaching middle school cross country. "From one practice, I can already tell these students are taking us to state," Beets said. Beets specific goals for this season are to have fun, work hard, and achieve personal records every season. The team has eight members, two girls (Lauren Fuller and Sophie Coffman) as well as six boys (Caleb Mead, Hudson Asher, Luke Lemme, John Fera, Steven Seelig, and Justin Boyd). Beets is ready for every possibility this season brings she said that "This seasons going to be a good one I know after only one practice!"
Middle school sports are looking pretty good this season. The confidence of the coaches makes it clear that success is imminent. Good luck, Eagles! Be sure to check our sports center for rosters, schedules, and scores!