NJHS Shares Holiday Cheer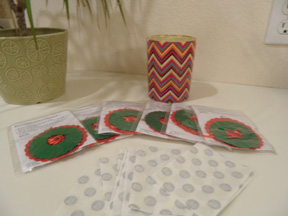 A group of National Junior Honor Society members will visit Emeritus, a senior living home, to decorate for Thanksgiving. NJHS has been visiting Emeritus and decorating it for the holidays for many years. As Thanksgiving approaches, students have made and turned in festive crafts, such as tissue paper corn, scarecrow faces, and paper plate pilgrims. This Tuesday and Thursday, the crafts were packed by Lisa Di Chiara, NJHS advisor, and student volunteers.
On Saturday, Nov. 16, 17 NJHS members showed up for the decorating. They gathered outside the building while DiChiara discussed her plans for the morning, and her expectations for the students as Horizon Honors NJHS members. Then the students headed to the community room, where they hung foam decorations and paper chains on the windows, and put tissue paper flowers on the table. A few students had the chance to speak with the residents, who all appreciated the decorations.
"You have so much talent," said one resident to eighth graders Laney Corey, Megan McElleney, and Shannon Binkley as they fluffed tissue paper flowers.
After the decorating was over the students enjoyed cookies outside, courtesy of Dichiara. "I have never seen so many students willing to give up their Saturday morning," said Dichiara when discussing the results of the decorating.
Decorating the nursing home not only brings holiday cheer to the residents, but is also a great way for the NJHS members to give back to the community, and get experience volunteering.  Christmas crafts have already been passed out to the members, and student are looking forward to going back to Emeritus on Dec. 7 for the next decorating.