Get Your Books Ready Because It's Time to Battle!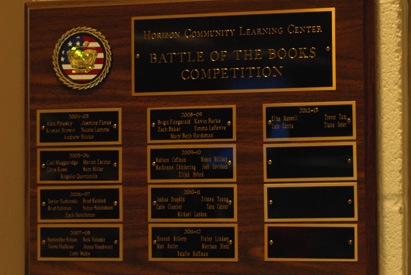 The tenth anniversary of Battle of the Books (BOB) has just kicked off. Students from fifth to eighth grade will work together to read as many of the assigned books as they desire. Every Friday starting April 4, students will meet up with their groups of five to six people and discuss the books they're reading. The teachers have already assigned the groups, and those groups made exciting names such as the Readasaurus or The Book Bandits.
The students are able to choose from 12 books: "A Wrinkle in Time" by Madeleine L'Engle, "Artemis Fowl" by Eoin Colfer, "Beast Quest: Claw the Giant Ape" by Adam Blade, "Hoot" by Carl Hiaasen, "Never Mind!: A Twin Novel" by Avi, "On the Run: The Fugitive Factor" by Gordon Korman, "Shakespeare's Spy" by Gary Blackwood, "Swindle" also by Blackwood, "The Egyptian Box" by Jane Louise Curry, "The Magician's Nephew" by C.S. Lewis, "Twenty Thousand Leagues Under the Sea" by Jules Verne and "Where the Red Fern Grows" by Wilson Rawls. Each student must read at least two books from the presented selection.
BOB is a competition where groups of students try to master the literature and then try to guess the answers to questions regarding the books correctly. The students write their own questions to prepare themselves for the real deal. The actual competition will emulate a game show, where the host asks a question and the first person to buzz in will have to say the title of the book and the author's full name. The point of BOB is to get students excited about reading and to make the entire experience an enjoyable one. The final competition is on May 23, starting at 8:30 am.
Eighth grader Macaria Likong-Gorman thinks, "Battle of the Books will be very exciting and it will be interesting to read new books." Likong-Gorman can't wait because it's her first time participating in the annual event. Seventh grader Grace Jamison is excited for BOB and said, "When going into the finals it's extremely exciting and you get supported and cheered on by the teachers and students." Seventh grader Cameron Thai has a different opinion from the rest of the students: "I think Battle of the books should be optional. To me it sounds fun, but other students might not want to do it. Why make them? It's not fair to people that want to do this, but is brought down by others not trying."
Whether or not the students all are excited by this competition, one thing is sure, Battle of the Books 2014 will be a competition to remember.