Kindness Krew T-Shirts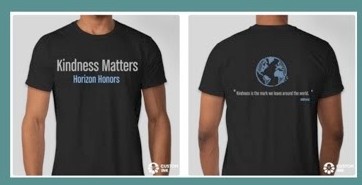 The Kindness Krew has been a club at Horizon for a couple of years now, and has had many fundraisers and sales in the past. This year, they are kicking it off with a new t-shirt design as a way to spread a little more kindness throughout the school. 
This year's design features a black cotton t-shirt that says "Kindness Matters" on the front in a metallic silver print, with "Horizon Honors" in blue print under it. On the back, it has an outline of the Earth in the same blue print and a "RAKtivist" (short for Random Acts of Kindness Activist) quote that reads "Kindness is the mark we leave around the world," in metallic silver. 
I asked Mrs. Heather Wallace, the advisor of Kindness Krew, a few questions about the t-shirt fundraiser. Here are her responses.
The Horizon Sun: How many years has Horizon's Kindness Krew been selling the kindness t-shirts
Heather Wallace: This is our 4th year selling shirts.  The first year, they said "Be Kind." The second year, "Choose Kindness." And the third year, "You Are Your Choices." This year's shirt says "Kindness Matters," with our school name and then a quote on the back.
Sun: How did Kindness Krew start selling the t-shirts? 
HW: We are a self-sustaining club, which means we don't automatically get funds to use. Since some things that we do for our community cost money, selling t-shirts was a natural way to spread our message and raise funds to use to do kind things for our community. 
Sun: What do the proceeds go to from the t-shirt sales? 
HW: The proceeds go towards any supplies we need to implement our activities throughout the year, including our annual Kindness Week in semester 2. In a typical year, we provide daily lunch activities during Kindness Week, including providing games, prizes, and supplies for students to use to complete their Random Act of Kindness Checklist during the week. We've got some great ideas to implement during the week that will provide a fun time for all students, whether they are on campus or remote. We also provide treats for students during the Semester 2 finals week. We receive donations from parents for those, but we have so many students that the club must supplement the donations as well with the t-shirt proceeds. Lastly, our ongoing activity for the school year is the Kindness Katchers.  We will be doing a drawing at the end of January, February, March, April, and May, and one middle school student and one high school student will receive a gift card prize.  Also, the teachers who nominate the winning students will also receive a prize sponsored by the Kindness Krew.
Investing in the 2020-2021 Kindness Krew t-shirts is a great way to show off some school spirit and support an amazing club that does a lot for the Horizon Honors community! Click here to make your purchase.