Sadie Hawkins: Super Hit or Spectacular Fail?
Sadie Hawkins wasn't what students expected. Here's what we want improved for the next dance.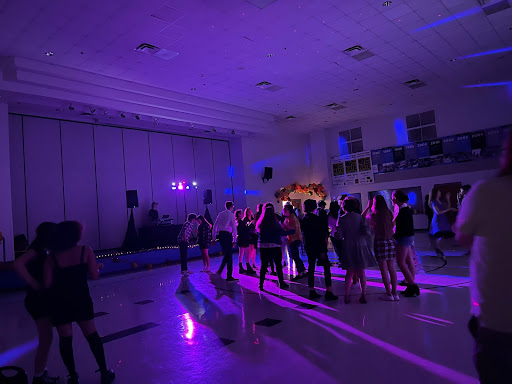 This year's Sadie Hawkins Dance was on Friday, Oct. 28. It was similar to the Welcome Back Sock Hop, having the same lighting and taking place in the multipurpose room.
The music for Sadie Hawkins, although loud, was enjoyable. There were some good songs. Some of the songs played were "Anti-Hero" by Taylor Swift, "Monster Mash" by Bobby Picket, and "Come On Eileen" by Dexys Midnight Runners. Canon Grant, a junior who was at the dance, said they played, "a couple of songs [he] really liked," but wished they had some songs for line dancing and a few more slower songs to make it feel more like a school dance. However, not everyone agreed that the music was great. Daniel Acuna, a senior, noted, "I just wish there was a better DJ." Music is one thing that not everyone will agree on when it comes to school dances and, in the end, there isn't too much the school can do about the music.
They are, however, very much in charge of décor. Even though there weren't many decorations, they all did match the theme for a Harvest Festival dance. There were balloons near the cotton candy and apple cider stand and a place to take pictures outside the multipurpose room.  A snack table close to the backdrop was also included as decoration. However, it was lacking for a school dance, especially one as big as Sadie Hawkins. Decorations are a key part of school dances, and it would be awesome to have a little more decorations spread out, though maybe not balloons, since many of those were popped throughout the dance. Next time, there could be banners or streamers.
On a serious note, the lighting should be fixed. More than a few students have raised complaints about the lights being too flashy. Sofia Garcia, senior, is one of these students. "It was… overwhelming because of all the lights and sound." This was also a problem at the Welcome Back Dance at the beginning of the year. Like the Sock Hop, the music was extremely loud as well. The music and lights were overstimulating for a majority of the students so for the next school dance, the music should be quieter. This is definitely something that we'd like to see fixed.
Keep in mind that if students want to be involved in the planning of school dances, pep rallies, or spirit weeks, there are Student Council committee meetings that any high school students can attend to share their opinions. For the next dance, let's work together to make it a memorable one.