An Appealing Art Show
The Horizon Honors Secondary School's art show is an amazing experience.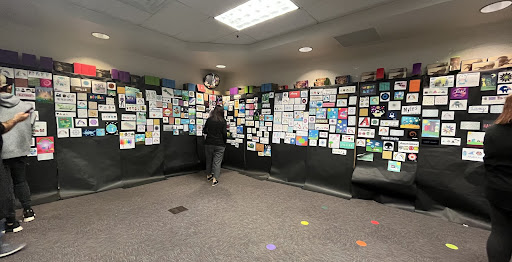 The most unique and detailed display for the creative talent of Horizon Honors is the art show. This fantastic event was held on Dec. 9, 2022 and happens only twice a year. It features beautiful artwork, inventive electronic games, evidence of students' efforts, and a lot more. This year's amazing art show was a huge success!
Below is an interview with Melinda Buttrey, one of Horizon Honors's main art teachers, discussing the art show and why people should attend the next one.
(Editor's Note: responses edited for clarity)
The Horizon Sun: What is the best feature that you get to see at the art show?
Melinda Buttrey: My favorite feature is that I get to see all of my students' hard work throughout the entire year.
The Sun: Why should families attend, and what comes out of it for them?
MB: It's an amazing night to support all aspects of art and our Horizon student body. It's a night where families can see multiple levels of art from studio, to beginning, to intermediate, and finally to Honors art. They can also see graphic designs and digital media art. Families have the opportunity to play student-designed video games and see Arduino projects too. They also get to enjoy culinary's delicious treats and hear the guitar display. This is a night where there is something for everybody.
The Sun: In your opinion, what is the best thing about the art show?
MB: Our students and families, the way everybody comes together, is something I look forward to the whole year.
The Sun: When is the next art show?
MB: The next art show is Friday, May 19, 2023.
The Sun: What are you most looking forward to for the next show?
MB: I am most looking forward to seeing my students' hard work, growth, and commitment throughout the year, and seeing them enjoy the pieces that they made.
The art show hosted by Horizon Honors is a magnificent experience that offers a great chance to discover more about our school's core values and spend a memorable night with the people you enjoy. The Horizon Honors art students and their teachers are excited to see family and friends at the next art show.