The Great Gatsby Review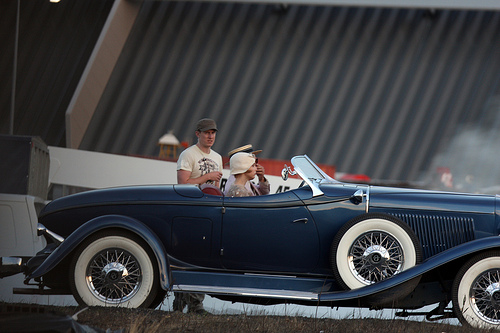 "The Great Gatsby" is a romantic-drama starring Leonardo DiCaprio, Tobey Maguire, Carey Mulligan, Joel Edgerton, Isla Fisher, and many others. It is the fifth film produced from the 1925 book, "The Great Gatsby", written by F. Scott Fitzgerald. The movie was co-written and directed by Baz Luhrmann. Filming began in 2011 in Sydney, Australia and was originally set to be released in December 2012. In August, the film was moved to a summer release date of May 2013.
To be honest, I'm not sure if the movie or the soundtrack is better. The soundtrack was released a few days before "The Great Gatsby" came out in theatres with 14 tracks listed at the length of about 57 minutes and had artists such as Jay Z, Florence and the Machine, the xx, and Beyonce. Lana Del Rey's "Young and Beautiful" was the lead single released off the album. The soundtrack has a great mixture of rap, indie pop, techno, and comes highly recommended.
Casting began with Leonardo DiCaprio playing Jay Gatsby and Tobey Maguire to be Nick Carraway. Originally, Luhrmann wanted to cast Amanda Seyfried to play Daisy Buchanan. Although he wanted her, he continued to audition numerous actress such as: Keira Knightley, Blake Lively, Scarlett Johansson, and Natalie Portman. In November, 2010, Luhrmann announced he had cast Carey Mulligan instead. "I was privileged to explore the character with some of the world's most talented actresses, each one bringing their own particular interpretation, all of which were legitimate and exciting," Luhrmann began, on the red carpet premiere of the movie. "However, specific to this particular production of "The Great Gatsby", I was thrilled to pick up the phone an hour ago to the young Oscar-nominated British actress Carey Mulligan and say to her: 'Hello, Daisy Buchanan.'" As like Daisy Buchanan's role, the character of Tom Buchanan was auditioned for many actors, too. Joel Edgerton beat out Ben Affleck and Bradley Cooper. Soon after, the rest of the cast was assigned. Elizabeth Debicki as Jordan Baker, Jason Clarke as George Wilson, and Isla Fisher as Myrtle.
To rate this movie, I'd give it a six out of five, it was that amazing. Even though I have never read the book, I understood everything completely. They've made four other movies based on the book trying to perfect the greatness the books holds, and I believe this one is it. With such great actors such as Leonardo DiCaprio and Tobey Maguire, they took on roles I've never seen them succeed in so well before. If you haven't, I advise you to see this movie. It's a great combination of romance, drama, mystery, with an excellent musical selection. You won't forget the "The Great Gatsby"!
Leave a Comment