Tyler Perry's A Madea Christmas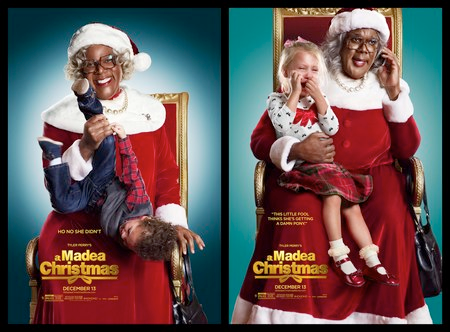 It's the holiday season and Madea and her family are making it memorable. She helps out her sister Eileen (Anna Maria Horsford) and her niece Lacey (Tika Sumpter) get through the holidays with family troubles at hand. Eileen is that mom, who controls her daughter's actions and creates her dreams so she can't live her own life. When Lacey does something without her mother's notice, it backfires at the wrong time of the year.
Lacey has been living on her own for a while now, and when Eileen stops by  for a surprise visit, she's in for some big news. She catches a ride with Oliver, Lacey's ex-boyfriend (JR Lemon), while he's on his way to help Lacey with financial problems at her job. For the towns Christmas party to take place, they need a heap load of money, and Oliver can get it. But when the town finds out some news, Lacey gets fired from her job. It was an unpredictable movie which is something audiences enjoy, Tyler Perry does a fantastic job as a director.
What I liked about the movie is that it kept everyone, including myself, laughing. Tyler Perry is known to be a great actor, as himself and as Madea, although Madea is everyone's favorite. I really enjoyed the movie, but Madea's character wasn't in it as much as I thought she would be. I assumed she would be the main character, and even if she wasn't, it was still a great comedy. This hilarious movie was released on December 13, 2013, and it has deserved a 4 out of 5 star rating.