Mirthful Blue Men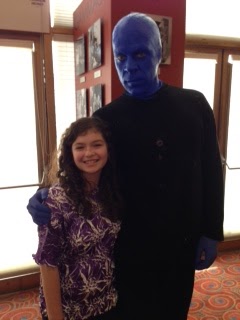 "Experience the phenomenon." From Feb. 25 to March 2, ASU Gammage was full of posters with this slogan on it, along with pictures of three blue men on a brightly-colored background. Those men are easily recognizable as the Blue Man Group, and those posters were advertisements for their performance, which was full of music, lights, and playfulness.
Before the show even started you could tell it would be funny. There was a quote on a screen from Nora Epinephrine and Sarah Tonin's "The Social Synapse" telling people to turn off their cell phones in creative ways. Things like "Downloading apps right now is not a good idea," or "Please do not share Government secrets at this time," were coming on and off the electronic screen in red letters. The audience appreciated the humor in those warnings, as some were reading them aloud and laughing at them.
Soon after, the show started with The Blue Man Group playing instruments, their shadows reflected onto the screen in front of them. Colored strobe lights did that job, and the flashing matched the music's tempo. And when the screen lifted up, the Blue Men moved forward onto the stage to a set of drums. One man played while the other two poured paint on the drums, so each time a drum was struck,  neon pink and yellow flew up into the air. And their reactions to their own antics was priceless. Even from far away, the audience could tell that the blue men were impeccable actors, entertaining the audience without the need for words.
The Blue Man Group's performance consisted of segments. From playing music on PVC pipes to throwing paintballs and gumballs into each others' mouths, there was a wide range of sketches. My favorite was a parody of modern technology: GiPads. GiPads were tablets about seven feet tall, with the ability to make the Blue Men into cartoons, play as a slot machine, and amplify the sound of chewing Cap'n Crunch. The way the Blue Man Group played with them, though–walking around them, looking at each other oddly, and accessing apps–was indescribably funny.
They also interacted with the audience. One of their segments was picking a woman from the audience to go on a "date" with them. A fake wall with a table and chairs was set up on the stage and they brought someone up to sit with them, and invited her to eat Twinkies with them, while trying to impress her. One Blue Man put up a bug lamp while another put up a painting, "thinking" it would make the day better. The woman they chose was a great sport about it, though, laughing the whole time she was onstage.
Overall, I was very impressed with the performance. The Blue Man Group has some incredibly talented actors and I suggest the show for all of those interested in the arts, music, acting, comedy, and just plain painting.