A Hip Cucumber Dip
Gotta get a chip in this whipped dip.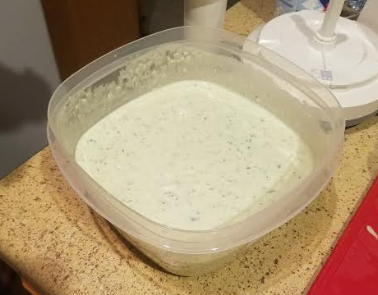 It's that time of year again – Thanksgiving, and immediately proceeding it, Christmas and the New Year. Upcoming is the season of both celebrating a jolly fat man and becoming quite jolly and fat yourself. My family has never had any "unique" recipes, per se, but rather just had the usual meals befitting a Thanksgiving feast – turkey, cranberry, potatoes, stuffing, and casserole. However, there is one dish our family has adopted – our cucumber dip. The ingredients? Fairly simple, and as follows:
Ingredients:
1 cucumber, pureed

16 oz plain yogurt

½ cup olive oil

Juice of ½ lemon

½ tsp salt

1 clove of garlic (minced)

A bit of parsley (optional)
Instructions:
Add all ingredients into a bowl and mix until fully blended.

Leave it in the fridge overnight to let the flavors meld together. (Optional)

Serve with crackers. (We use Melba Toast.)
Typically, my family makes two servings of this dip, which is roughly enough to fill a single large bowl. This amount feeds a large family of about 6-8 adults.