Swirling Snowflakes and Graceful Flowers
A look inside the Ahwatukee Foothills Nutcracker by Dance Studio 111.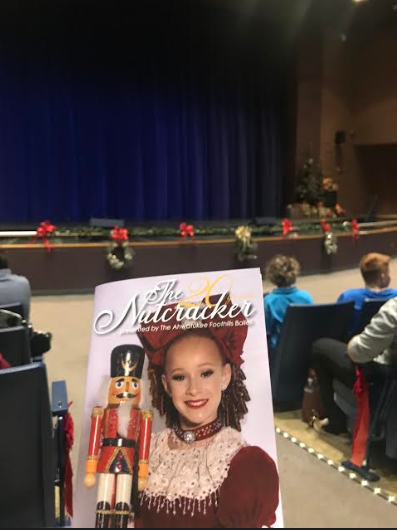 Kalyn McLeod, Editor of Campus Life and Sports
December 19, 2019
It was August of 2015, and I was begging my mom to take me to my friend's Nutcracker performance. It was her first ever time in this show, and she was so excited. My mom was reluctant to buy the tickets because the show was in five months, and we still had to plan our holidays, but I was a persistent little third grader, and she eventually gave in. At that moment, a holiday tradition was born.
For the past five years, I have seen Zora Griffin Todd, a seventh grader at Horizon Honors, play countless roles in this show, presented by Studio 111, from smaller roles like a mouse, toy soldiers, and Bon Bon, to Clara's best friend, and her latest role, Clara! Since she was the lead role, our whole friend group came to watch her. It was a truly magical moment watching snowflakes dance, Russian tumblers flip, and of course, Griffin Todd gliding across the stage. The show is about a young Clara, who gets transported into a magical world where nutcrackers become princes, and queens from various kingdoms dance together. She meets the Sugar Plum Fairy, who gives Clara a royally amazing experience.
Griffin Todd is an amazing dancer, with several different dance scholarships and prodigy awards. It's no wonder that she was chosen for the role Clara. 
The Horizon Sun: Why is the Ahwatukee Foothills Nutcracker such a special show?
Zora Griffin Todd: It is performed by all kids. And everything is all handmade, from costumes to sets.  
The Sun: What was your favorite role to play?
Griffin Todd: Clara, because it was my first lead role, and it is the main role. Plus, it was super fun to perform.
The Sun: Why was this year's performance different than past years?
Griffin Todd: We got a new choreographer, so choreography changed. Plus, he is a professional, so our choreography greatly advanced in difficulty. And this year, we had to deal with a smaller cast. 
The Sun: Will you continue performing in The Nutcracker in later years?
Griffin Todd: I would love to dance in the Nutcracker again, but I am currently still figuring out my dance goals for the future.
The Sun: How often did you have to practice?
Griffin Todd: Every Saturday since August [until] mid-December, from 7:00 a.m. to 4:00 p.m., as well as still having almost 20 hours of regular dance [on top of that, weekly].
As you can see, the young performers in the Ahwatukee Foothills Nutcracker put lots of time into this show.  No single Nutcracker show will be the same, since every Nutcracker performance brings its own magic. The only way to understand this magic is to go see it yourself and celebrate young, talented dancers in the community.