Cavetown at the Marquee
A Cavetown concert at the Marquee almost sells out, accommodating nearly 500 people!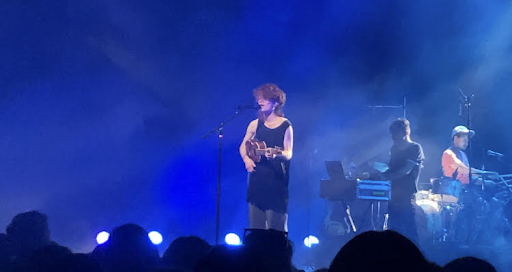 Matlyn McShane, Columnist
April 21, 2022
Cavetown, also known as Robin Skinner, is a 23 year old musical artist who has been publishing music since 2013. Popular singles of his include "Devil Town," "This is Home," and "Boys Will Be Bugs." His first album was released in 2015, titled "Cavetown." With about 8.1 million monthly listeners on Spotify, as of 2022 Cavetown has done about 130 concerts overall, according to Concert Archives. In November 2021, he announced he was doing a US tour, going all over the states.
On April 7, Cavetown had a concert at the Marquee in Tempe, Arizona. The gates opened at 6:30 p.m, but the people in the back of the line didn't end up making it in until 8:00 or 8:30. Addison Grace performed first, then Tessa Violet opened the show. The audience had to wait about 30 minutes between Tessa Violet and Cavetown.
When he finally came on, he opened with the song "Fool", which has about 93 million streams on Spotify. "Boys Will Be Bugs," "Juliet," "Sweet Tooth," "This is Home," "Lemon Boy," "Fall in Love With a Girl," "Green," "Feb. 14," "Idea of Her," "Hug All Ur Friends," "Sharpener," and "Smoke Signals ft. Tessa Violet" were all performed. He also sang an unreleased song titled "Frog." Lights were a really big part of the show, changing on beat and matching colors with certain songs. The backdrop had clouds, flowers, and a sun. There was a smoke machine and during the last song of the performance, a bubble machine.
An approximate of about 400 people attended the venue, leading to the line stretching from the front of the Marquee to nearly halfway down the Mill Avenue Bridge. The concert itself ended at about 11:00, but lots of people stayed at the venue to get merchandise, which took a pretty long time considering that the line was really long.
My personal experience was very good. I got really close to the stage and had a good view. I didn't have to wait too long to get in, since I got there before the line got too long. Even though it was loud, it was still super fun, and I met a lot of super cool people. My favorite song that was performed was either "Devil Town" or "Boys Will Be Bugs" since they are the songs that got me into Cavetown. If I had the chance, I would definitely go back to a Cavetown concert.