Therapy Animals: Why We Love Them
Therapy animals are beneficial, caring, and attentive creatures that are highly suggested for those who are suffering from illness and need support.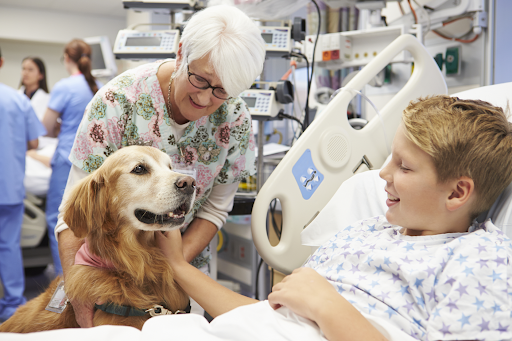 Animals and pets, particularly therapy animals, hold a special place in our hearts. Therapy animals, according to the American Veteran Medical Association, support people with physical or mental issues and provide assistance for everyday life. Therapy animals include dogs, cats, rabbits, llamas, ferrets, rodents, turtles, and many more.
According to Mayo Clinic, these animals aid in the recovery or better treatment of health problems, including heart disease, cancer, and mental illness. They do this by reducing pain, anxiety, or fatigue that you may be experiencing. Pawsome Advice shows that over 60% of hospitals use therapy animals to aid and help people with diseases. Therapy animals can also aid in the reduction of blood pressure and the overall improvement of cardiovascular health. Pawsome Advice explains that 74% of therapy pet owners say their mental health has improved. You have the option of training a therapy animal on your own or with help. Professionals recommend you find a formal organization that lists well-educated trainers on their websites to help you on your way, says the American Kennel Club.
MHA National states you must have a diagnosis from a mental health expert in order to claim the need for an emotional support animal. This is essentially a signed document showing that you have a mental health problem and that your pet helps you cope. Some landlords and airlines may accept a letter from a medical practitioner, but most of the time, it must be from a therapist or psychiatrist.
Keeping one's body and mind in check is difficult for individuals suffering from health concerns. Therapy dogs' companionship might assist such people to avoid emotional breakdowns, and keep their brains occupied with positive thoughts, as well as combatting medical conditions. These compassionate creatures provide relief and comfort to those struggling to improve the lives of humans.