Halloween Festivities for Your Furry Friends
On Halloween, everyone should be included. Even your pets!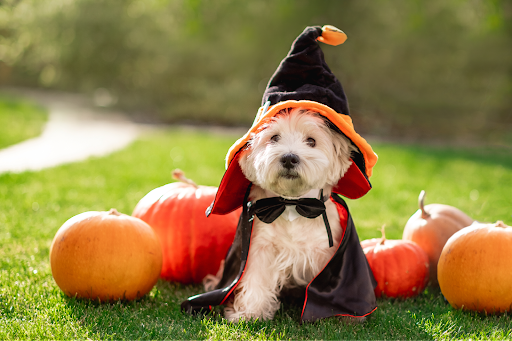 When pets can't have candy or go trick-or-treating, how do you include them in the Halloween spirit? There are tons of options! From dressing them up to taking pictures of them in front of pumpkins, the possibilities are endless.
First off, there's an original option. Dress them up! There are so many pet costumes that you can buy from pretty much any big pet store. The only issue with this option is that animals are not always big fans of it. If you want to try to get a full costume on them, try doing it when they're very relaxed and seem like they won't mind too much. However, always remember to respect how they feel. Don't make them wear anything that they don't want to. If you have a pet that you know won't tolerate a full costume very well, try getting them a hat and just taking a few pictures before taking it off.
Another idea would be to hold a photoshoot. It doesn't even have to be fancy or expensive. You could buy a pumpkin and take a few pictures with your pet either in front of or behind it, or take a few pictures of them with some Halloween decorations! If you have an animal that can go outside and have outdoor decorations, try taking some pictures of them in front of them! If you're feeling crafty, you could cut out some holes in a small cloth and turn your friend into a ghost.
If you have a pet that can leave the house, such as a dog, try taking them on a walk around your neighborhood or apartment complex to see the Halloween decorations! If they really like to walk, you might even want to try to include them in trick-or-treating, if you have plans to participate.
In the end, always remember to do what's best for you and your pet. Maybe the best option is to stay inside and watch a movie or carve a pumpkin. Always remember to not make your pet do anything that they don't want to do, and enjoy your Halloween!