Judgement Has to Pay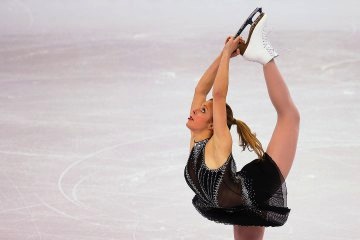 Ashley Wagner, a professional figure skater representing the United States in the Olympics, has been facing much criticism because of her "undeserving" status as an Olympian.  Although the 22-years-old figure skater came in fourth place in the Olympic qualifiers, American judges felt she was qualified enough to join Team USA in Sochi in place of Mirai Nagasu, who placed third in the competition. Considering that Nagasu competed for the United States during the 2010 Winter Olympics in Vancouver, it seems a bit unusual that Nagasu was not able to represent America in Sochi.  I believe that one of the reasons Wagner was named to America's Figure Skating Team is because she has been featured in many advertisements, especially in skating magazines.
During the Olympic qualifiers, Wagner left the rink unsuccessfully, having given an unimpressive performance to the judges and the crowd.  Therefore, the judges' decision caused people to direct their anger at Wagner. Because several people sensed that she did not deserve to compete for America, she faced a lot of pressure.  Wagner shared, "It was more about proving to myself that I could get beyond a bad competition.  And I wanted to do everything I could to help the team, and I really felt like I delivered on that part."
When I say judgement has to pay, I mean that irrational Americans' perception of Ashley Wagner will have a negative effect on her performance.  People see and judge Ashley Wagner through a tainted frame for a reason that was beyond her control.  Wagner is a phenomenal and graceful skater, and the people's reaction and treatment towards her is completely uncalled for.  Ashley Wagner is my favorite figure skater, and I personally believe it is great that she is representing America, because of her technique, friendly smile, and her support for America.  I don't understand why the public can't give her a chance.  It was not even Ashley's choice, but rather, America's Olympic Committee's for her to represent America, so why are the people angry at her?