Motivated by Competition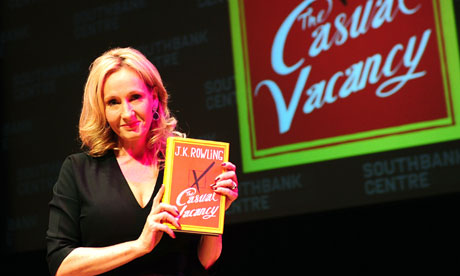 J.K. Rowling should stop writing, at least according to Lynn Shepherd.  Shepherd is a struggling writer who has published detective novels including "Tom's All Alone's." Her reasoning for her supposedly absurd claim is that Rowling is too good of a writer and that she is preventing other writers from shining. Shepherd states that Rowling's work doesn't allow the success of other upcoming writers and she should stop writing if she truly cares about writing.
This editorial published in the Huffington Post is a cry of jealousy and frustration with her lack of best-sellers compared to Rowling's and raises interesting questions of whether competition is a threat or motivation. For me, competition is encouragement to improve myself; if I lose in a competition or place second, I work hard to improve. Competition is my motivation, even if it is against myself, I am motivated to beat my last or some other person's time, score, placing, or some other measure of competition.
Competition is a way to quantify improvement and talent, especially for subjective assignments and competitions, such as writing and art. Entering your work in a contest will give you a number to beat and place to get. Although subjective contests should not be your only view of your work, it can help you see work against those of others. In objective contests, you are able to see your improvement over time. Competition measures your improvement over time.
Especially for writers, looking at the great works before you helps you to improve. When I am writing, I like to look at sample essays and papers to enhance my work. Looking at the techniques of the author or artists, I study what made the work so great. That is why the best writers are always read. They use previous authors to create their own unique style of elements they appreciate. Shepherd should be thanking Rowling for bettering writing in general with her novels instead of claiming she's ruining it.
Shepherd's cries are similar to asking Jane Austen to stop after "Emma" or the Beatles to stop before their American debut. Shepherd shows how people should be using competition as their motivation.