From the Stadium to the River
An epic win creates chaos on the field.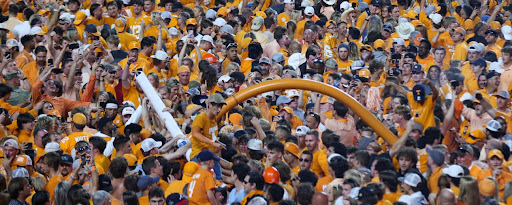 On Oct. 15, the football match between Alabama and Tennessee became a huge game. This is the first time in 16 years that Tennessee has beaten Alabama. They have had a century-long rivalry, so, going into the game, the fans and players were already in need of a win. Tennessee's victory has made them one of the top three teams in college football, dropping Alabama to number six.
This important win turned into a memorable game for everyone in the stadium and watching at home. The game ended with a win from the Volts kicker, taking the score to 52 to 49. The fans were thrilled and rushed the field. According to USA Today, Tennessee fans started tearing down the goalpost, and no one was stopping them. Fans were riding the post and passing it around. The fans walked it out of the stadium and onto the road. They got to the Tennessee River and threw it in.
It seems as though, throughout the years, fans have taken down the goalpost from the Volunteers' stadium. According to WJHL, it has been years since the last time they tried taking it down. This situation ended with the Security and Exchange Commission fining them for $100,000. The college is having trouble paying for these costs, so they are asking for fans and others to help pay for the damages they have made. They have raised about $67,000 so far. If they want to play in their game next week against Tennessee-Martin, they will need to bring in enough money for a goalpost.
The fans and college may have learned a lesson from their actions, but it seems as though they have brought an old tradition back alive. Tennessee will need to gain control of their fans, or they will be owing lots of money for goalpost repair in the future.