The Grammys of Legends
The most shocking and best moments of the 2023 Grammys.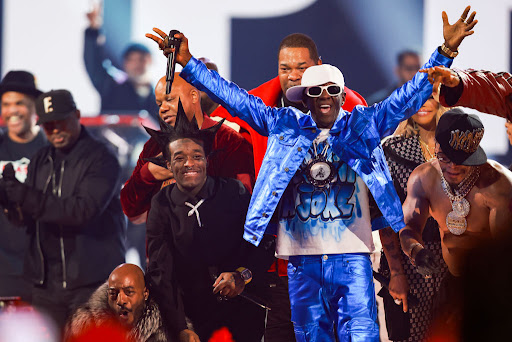 The 2023 Grammys were held in Los Angeles. This was the 65th annual Grammy Awards, hosted by Trevor Noah. Trevor Noah is a well known comedian, and he made many jokes throughout the program. Some of his jokes were found offensive and generated controversy, mostly those aimed towards Harry Styles. With many artists in the running for multiple awards and a host that didn't hold back, it was bound to be an interesting night.
This year's Grammys kept many people on their feet. According to TIME, Beyoncé was nominated for nine awards. Many were interested to see if she would break the record for the most-awarded artist. By winning four awards, she now has 32 awards, becoming the most-awarded artist in history. This came as a result of her new album, "RENAISSANCE," which became immensely popular. Many thought that this would be the year of her winning album of the year, but many found disappointment when it went to a different artist.
2023 was also the 50th year of hip hop. According to The New York Times, there was a 15 minute performance bringing back many original artists. LL Cool J started everything off, bringing the hype and energy, followed by artists like Busta Rhymes, Nelly, Queen Latifa, and Salt-N-Peppa. There were many artists both from back then and now. They all sang a small snippet of their music, which amounted to 24 songs. Ending the celebration off was Lil Uzi Vert with his new song that became highly popular, "Just Wanna Rock."
The memorial segment left many fans and audience members in tears. Quavo started the memorial ceremony with his new song, "Without You." This song is a tribute to his cousin Takeoff who was in the Migos group with him and Offset. According to EW, during Quavo's performance, many other artists who sadly passed were remembered. At the end, Quavo stood in front of the whole audience and held up Takeoff's chain. This was a very big moment, and many were emotional.
Many popular artists were nominated for album of the year. According to the Recording Academy, the nominees were ABBA, Coldplay, Harry Styles, Beyoncé , Adele, Bad Bunny, Lizzo, Mary J. Blige, Brandi Carlile, and Kendrick Lamar. But not many were surprised to hear that Harry Styles was the winner, as he had been on a long tour and grew his fan base with "Harry's House." Fans of Beyoncé , on the other hand, were upset that she hadn't won. She's been nominated four times and never won. The show also included a fan montage, where listeners expressed their personal opinions on who should win the award.
Overall, many thought it seemed to be a competition between the same artists. Several other artists hit big milestones and had terrific wins, making it a night to remember in music history. It is already apparent that the 2024 Grammys will be similar, both in contention and in musical importance.