Winter is Coming: MS Winter Sports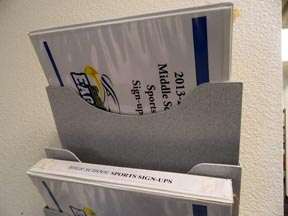 Horizon Honors middle school offers a variety of sports, including girls and boys basketball, co-ed soccer, girls volleyball, co-ed cross country, boys baseball, co-ed spirit line, and girls softball. As our sports handbook states, our teams encourage responsibility, teamwork, and good sportsmanship for all team members. Since winter sports are almost upon us, it's the perfect time for you to try out in your favorite sport, or maybe try your hand at a sport you've been curious about.
 As the middle school soccer and volleyball seasons finish, the signups for cross country, boys baseball, and girls softball seasons are starting.  Sign up sheets are in the front office; they are quickly filling up, so if you want to join a winter sport, sign up now. It is mandatory to try out to get into any of the sports, and winter sports paperwork is due by Nov. 4, 2013.
Many students are excited for the upcoming winter sports. Eighth grader Skylar Kemper plans to try out for co-ed cross country.  If she makes it in, this will be her second year in cross country.  When asked why she enjoys running on the Horizon Honors cross country team, she said, "It's an experience where you only compete with yourself, it gives you time to think [while running], and you can really bond with the other members on your team."  Winter sports could be a perfect fit for you too, especially if you like to keep exercising as it grows cold outside. Finish your paperwork, get to tryouts, and remember to do your best! Go Eagles!