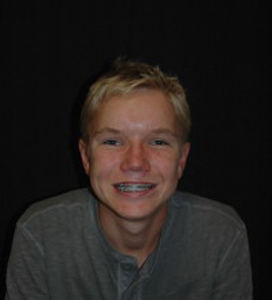 Sophomore Serge Hattasch has been at  Horizon Honors for four years and plans to continue attending until his graduation. It is his first year in Journalism. Serge's favorite class is math, and he likes to play his trumpet in band class. Serge is going to work hard to pass all of his classes this year. He is also an athlete, participating in cross country, basketball, and track and field. He goes to school incredibly early for cross country practice, and often eats breakfast immediately before his first class of the morning.
FUN FACTS ABOUT SERGE: Serge was born in Russia and lived there for six years before moving to America. When he isn't participating in sports or doing school work, he likes to play
Magic: the Gathering
with his friends, whom he sees regularly at lunchtime. His favorite holiday is Christmas because he likes to celebrate Jesus and receive presents. In the future, Serge wants to be the best weatherman that America has ever seen.
Serge Hattasch, Columnist
Jun 18, 2014

Ways To Stay Cool

(Story)

May 19, 2014

Beyond The Last Milestone: Finishing 2014 On A High Note

(Story)

Apr 29, 2014

National Honor Society Induction

(Story)

Apr 21, 2014

Photo Highlights of Spring Fling

(Story)

Apr 07, 2014

AIMS testing dates

(Story)

Nov 24, 2013

Personal Fitness Class Builds Strength

(Story)

Oct 23, 2013

Everything is Chrome in the Future: Horizon Honors' New Chromebooks

(Story)

Sep 14, 2013