Boston Marathon Heros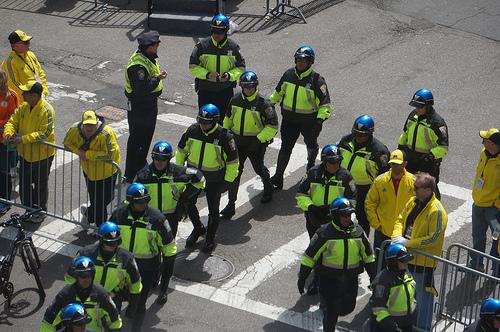 When two bombs exploded near the finish line of the Boston Marathon on Monday, April 15, the crowd of spectators and runners were sent into panic.  Despite this act of terror, great heroism was also brought to light as people rushed to aid the injured and help identify the suspects, showing the resilient strength of Bostonians and Americans. Instead of running away in fear, many people rushed to the scene and rendered aid.
Carlos Arredondo, a 52-year-old who had suffered the tragic loss of both sons, had determined to channel his frustration and sadness toward more positive efforts.  A participant in the marathon, he ran to help the victims seconds after the bombs exploded.  He was captured in multiple moving images helping hold together the femoral artery of a man who lost his leg in the explosion.
Jeff Bauman was one of the heroes of the Boston tragedy. Bauman witnessed one of the suspects drop the backpack that contained the bomb just before it exploded, and was able to help investigators by identifying the suspect in a series of photographs.  His friends set up a fund called "Bucks for Bauman" on GoFundMe to help pay for his injuries, and they have raised over $360,000 to help pay for his medical expenses and recovery.
Joe Andruzzi, a retired NFL lineman, was another hero who was waiting near the finish line to cheer on his wife.  When the bombs exploded, he rushed to carry injured people away, which was captured in images on twitter.  However, he did not want to take the spotlight away from the victims, and put out a statement saying, "[the] first responders, medics, EMTs, runners who crossed the finish line and kept on running straight to give blood, and the countless civilians who did whatever they could to save lives. They were the true heroes."
Matt Peterson was an off-duty firefighter and Afghanistan veteran who rushed to the scene.  He carried a young boy who lost his leg to paramedics and created a tourniquet for him using a belt.  Peterson also tried to aid  Martin Richard, who later passed away, and another man who later had his leg amputated.  He is looking forward to reuniting with the young boy, and is hopeful that he will one day make a full recovery.
Hundreds of doctors, nurses, surgeons, and emergency response medical officials also rushed to the scene to help injured people. Police officers and FBI agents are also being praised for their investigation and capture of Suspect #2.  Hundreds of people gathered in Watertown, MA to celebrate the end of the manhunt and cheered for police cars and emergency vehicles as they passed by the crowds.  Local residents tried to do everything to help those who were hurt by the bombing.  A google document was opening where people posted their addresses and offered people a place to stay or to come over for a meal or a ride.
These people represent the strength Americans display in any tragedy, and these brave heroes deserve to be praised for their efforts.