Oklahoma Tornado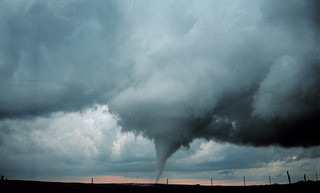 An unconfirmed amount of people have been killed and Shawnee, Oklahoma is in a state of emergency after tornados swept through the state.  300 homes are estimated to have been completely destroyed and search and rescue efforts are checking for missing people.  Oklahoma Governor Mary Fallin declared a state of emergency after tornados impacted 16 counties of the state.  The bad weather also affecting other states and 28 tornadoes have touched down in Oklahoma, Kansas, Illinois and Iowa.  They have also threatened to move towards Texas.
The state and Weather Service put out strict warning and urged people to take shelter.  A half mile wide tornado was also reported which prompted even more warnings.  "You could be killed if not underground or in a tornado shelter," said one weather advisory for Oklahoma.
A large portion of the Shawnee lost electricity, which has made relief efforts difficult.  People were evacuated from their homes and are being told to stay in shelters and other facilities until the bad weather dies down and the damage can be better assessed.