A Taste of Summer
As it gets hotter outside, refreshing summer treats will most likely be essential to a cool summer day.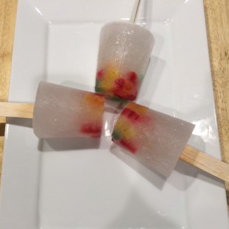 Having a cold and refreshing popsicle is a treat that many look forward to snacking on when the summer season is in full swing. Store-bought popsicles are pretty good, but making your own is way more fun and sometimes tastes even better. Gummy bear popsicles have been a big trend around summer and are fun and easy to make.
Materials:
Popsicle mold (if you don't have any popsicle molds, simply use paper cups)

Popsicle sticks

Gummy bears

Sprite or Seven Up
Directions:
Fill molds about 3/4 of the way full with soda.

Drop in gummy bears.

Place popsicle sticks into the mold.

Freeze for about two hours, or until the popsicle is firm all the way through.
Then simply enjoy and as well they are a great opportunity to take a cute summer picture!
Another enjoyable way to spring into summer is to sip on a cold lemon-lime soda with a twist. The copy cat of the iconic Ocean Water drink from Sonic, and the great part is that you can make it look more like ocean water by adding a sweet Swedish Fish.
Materials:
3 tablespoons of water

3 tablespoons sugar

1 teaspoon of coconut extract

3 drops of blue food coloring

12 ounces of lemon-lime soda
Directions:
In a small microwave-safe bowl combine the sugar and water.

Then heat in the microwave for about one minute, stir until sugar is completely dissolved.

Pour the sugar mixture into a pitcher. Add coconut extract, food coloring, and soda.

Stir to combine.
Make sure to enjoy your drink over ice so you combat the heat deliciously!