The (Monster Hunter) World is at Your Fingertips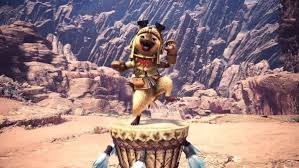 On Jan. 26, 2018, the world was introduced to "Monster Hunter: World," an open-world, action role-playing game for the PS4 and Xbox One. "Monster Hunter: World" is the newest entry to the "Monster Hunter" series, which is known for its strange characters and creatures. Since 2005, the company that produces the "Monster Hunter" series, Capcom, has released many games, each more peculiar than the last.
In the beginning, players will create their own character that they will play as in the game. Soon after, they create a Palico, which is basically large cat that helps you throughout the story. Finally, players are thrown into the game, on a ship traveling to "The New World," but are interrupted by a large sea monster also traveling to The New World. The ship is destroyed and the players wake up after being knocked out on the back of the sea monster. After climbing up the back of the monster, they latch on to the leg of a flying creature. They fly, then fall, onto The New World and have to fight their way through a hoard of monsters to The City of Astera, where players equip weapons, gear, ect. After that, players can continue to work on the story, or just fight monsters to their heart's content.
"Monster Hunter: World" also has the option to play online with friends and fight more powerful monsters and bosses in a group. This way, the giant monsters won't automatically kill the player. When in a group, players can complete team objectives, which will unlock more helpful gear that is needed later on. If a player is fighting a very powerful monster, or even two at once, they can request help in the form of shooting a flare up in the sky, and others on the server can come help defeat the monster. This playstyle is a very interesting choice, for "Monster Hunter" developers have done this a few times before, and most attempts didn't work well. However, this time, Capcom has done it perfectly, and multiplayer works very well with the game.
"Monster Hunter: World" is a complex and interesting game that seems to have given the fans exactly what they were looking for. It has a fresh new playstyle that can appeal to players old and new, and the game pulls players inside and makes them feel like they are part of the world of monsters. The "Monster Hunter" series has been beautiful in the past, but World destroys those games in both quality, and gameplay.