Fellowship of Christian Athletes
Horizon Honors has several fascinating clubs that many students participate in and support.    A club that is very important to Horizon Honors is Fellowship of Christian Athletes (FCA).  This club is not only for athletes, but also for students who do not participate in sports.  For students who take advantage of this club, they find encouragement and friendship.
        Senior Connor Pendleton appreciates FCA because a group of students are able to come together and become unified.  Connor co-founded FCA with Matt Richardson, an alumnus of Horizon, after they were motivated by the movie, To Save a Life.
    The students play interactive games, which help them get to know others better that are in the club. They also take time to learn more about Christianity and students can teach various lessons.  Some of the lessons have included love, forgiveness, relationships, and standing out in faith.  FCA is a great place for students at Horizon Honors to reach out to others, come to know Christ, and grow a stronger relationship with him.  Senior Jack Kenzler says, "It is a great atmosphere where students can get to know each other and further their knowledge of God."
Recently, middle schoolers have been interested in beginning FCA after attending a high school meeting. Next quarter, there will be a chapter of FCA available for middle school.  Middle and high school FCA won't be combined, but the meetings will be very similar. One teacher sponsors the high school and two teachers will sponsor middle school.  One of the students that are helping to establish this group said that starting FCA for middle school will be very encouraging, a great experience, and a way for young students to reach out to anyone.
Leave a Comment
About the Writer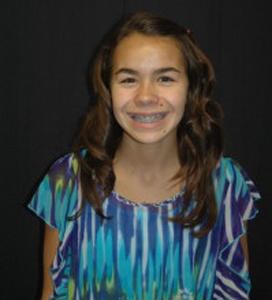 Maggie Kenzler, Columnist
Maggie Kenzler came to Horizon Honors for her sixth grade year.  She chose choir as her specials class, and enjoyed it a lot.  Her first year at Horizon Honors was great, and she made very nice friends.  Maggie was also in writing club, which was a great experience.  Later, in seventh grade, Kenzler won a writing contest for a youth church event.  She was in Dolce Voce choir for her first year in middle school and made it into in Bella Voce for her eighth grade year.  Also, in her eighth grade year, she decided to take journalism, because she loves to write.  Lastly, Maggie enjoys learning new and interesting things at Horizon Honors.

Aside from school, Maggie Kenzler takes part in many fun activities and sports.  She attends Wednesday church nights for her youth group, which is an encouraging night in her busy week.  She has been ice skating for about seven years, and loves it so much.  Maggie also plays volley ball for the Horizon Honors middle school team and a club team named Club One.  Kenzler has three brothers, two older and one younger.  Her family is very special to her and she loves them very much.  She enjoys playing with her dog, Ellie, swimming and playing board games with her family.  She and her family enjoy serving at Feed My Starving Children, which is a place where people help package food for poor children in various countries.  Overall, Maggie enjoys new experiences that come up in her life.