Uplifting LGBTQ+ News Stories
There is hope for change regarding rights afforded to members of the LGBTQ+ community.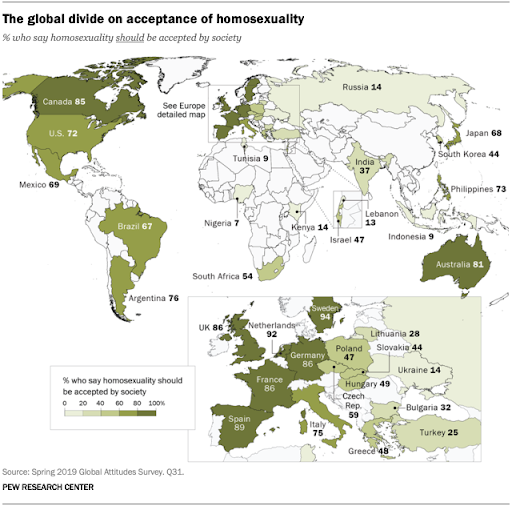 Although there have been many anti-LGBTQ+ laws passed recently, there are still good things happening for the community. This includes in politics, around communities and in daily life, and in sports all around the world.
There have been many changes in politics, including more countries becoming tolerant of LGBTQ+ identities. According to Good Good Good, Angola, an African country, legalized same-sex relationships and passed legislation to prevent discrimination based on sexual orientation. In Japan, a court declared the refusal to recognize same-sex marriages as unconstitutional. Israel lifted restrictions on blood donations based on sexual orientation. Alabama passed a law that removes anti-LGBTQ+ language from school education curriculum. The United States protected healthcare for gay and transgender people. Dr. Rachel Levine became the first openly transgender person to be appointed to a federal position as Assistant Secretary for Health.
Communities have helped LGBTQ+ people gain rights and stay safe. Good Good Good states that an organization based in Tennessee, My Sistah's House, works to help transgender women by building small homes. They help provide resources for transgender people. A Canada-based organization called Rainbow Railroad helps LGBTQ+ people travel from places in which they face discrimination to safer countries. NBC shares a story about a gay couple that used AI to create humorous pictures of Republican leaders dressed in drag as a response to anti-LGBTQ+ legislation being passed.
In sports, there is more inclusivity, including in the Olympics and NFL. According to Good Good Good, a record number of more than 163 LGBTQ+ athletes competed in the 2020 Summer Olympic Games. Carl Nassib, a Raiders linebacker, was the first active player to come out as gay; he made a large donation to the Trevor Project.
These stories inspire us to stay strong and support people who are a part of the LGBTQ+ community. They remind us that change is possible and people will continue to fight for their freedom across the world.