French Gangster Blows Minds with Explosive Escape
Devin Jones, Associate Editor -Student Opinion
April 22, 2013
Interpol has issued an international wanted notice for the arrest of Redoine Faid, a French gangster who was initially arrested for attacking armored vehicles transporting money to and from banks. French officials say that Faid has a history of being a "copycat criminal," meaning that he has a tendency to engage in crimes similar to those in movies, television, and other forms of media that are widely available. Frederic Fevre, the head prosecutor in the case, said in an interview, "He wants to be known as the greatest gangster — public enemy No. 1, so this morning all the papers are calling him just that. I think that's his satisfaction."
Following the script of a typical action film, Faid made his escape in a frantic dash filled with explosives and firearms. Officials said that Faid managed to get his hands on a .45 caliber pistol and enough explosives to blow his way through five different doors. But he blasted his way to freedom only after he held five people, four of which were prison guards, at gunpoint. However, it is not Faid's ability to conjure explosives or firearms that make him a deadly man, but his remarkable amount of intelligence. In an interview after the wanted notice was posted, Jean-Louis Pelletier, Faid's lawyer, said that he was not surprised in the slightest that Faid had managed an escape, even going so far as to say, "He is remarkably intelligent, and he is using his intellect to serve his ambitions, [and Faid] cannot stand being imprisoned any more."
Regardless of how intelligent Faid is, the French citizens are calling for immediate action by the French police, asking for not only the criminal to be caught, but an increase in penitentiary security. Both the French officials and citizens have put the high-security prison that Faid was placed at under serious scrutiny, questioning how the firearms and explosives even managed to be brought into the prison, let alone into the hands of a prisoner. While it is not entirely known how they were smuggled inside, a full blown investigation is being launched by the French Police and international law enforcement groups are working together to piece together this explosive escape in Lille, France.
About the Writer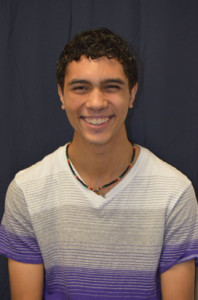 Devin Jones, Head of Media and Photography
Devin is an aspiring photographer and journalist with plans to go to Northern Arizona University once he completes high school.  He then plans to pursue...