Student Spotlight: Joey Vitagliano
I sat down with singer-songwriter Joey Vitagliano to ask him questions about his music career.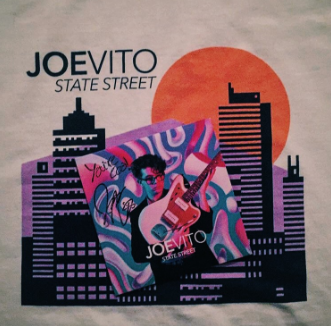 Joey Vitagliano, also known as Joe Vito, is a senior at Horizon Honors whose music career has been taking off. Joey won second place as a soloist in Alice Cooper's Annual Christmas Pudding on Nov. 18 and is working on his third EP at the moment. His music can be described as a mix of indie, folk, and alternative. Below are some questions I asked him about himself and his music.
The Horizon Sun: When did you realize that you wanted to become a singer/songwriter?
Joey Vitagliano, senior: "It's been something that has always been a part of me, and my dad [David Vitagliano] is a musician, so I was always raised around music. I always joke that I grew up in coffee shops and bars from listening to my dad play. It's always been a huge part of me. When I was twelve, I started playing guitar and it just clicked. It wasn't even something I thought about, deciding I was gonna do music. It just kind of happened."
THS: What is your songwriting process?
JV: "Songwriting is weird, and I think most songwriters can agree. It's not something I choose to do, the songs just find me. I don't sit down and think about it, it's just out of the blue, and once it pops up in my head I gotta write it down before I lose it. I'll just be in the shower and a line will come through my head, and I start thinking about that line, and it just morphs into a song. Usually, for me, I like to dive in deep and perfect it. So I'll get that initial spark and then I'll spend a couple weeks or even a couple months with that idea and just going through and being like, 'Well that word can be changed to that word, and there's too many syllables here' and so on and so forth."
THS: Who are your biggest inspirations?
JV: "I really love Leonard Cohen. I like to really consider myself a writer before anything else for the most part, and Leonard Cohen is just the best that there is. He passed away a month ago, and I was devastated. I also really like indie artists, like Mac Demarco, Father John Misty, Fleet Foxes, it's just all about the songs — if they write good songs, I'll like them."
THS: When was your favorite performance?
JV: "I played at Crescent Ballroom, and that was awesome because that's a legendary venue in Arizona. I did some shows in Boston over the summer as well. I was in a band called Guitar Hero 2, and there were five of us that kind of felt dejected by Burkley since they're very specific about what they like and what they don't like, so our goal was to make this band that was the antithesis of a Burkley band. We played noise rock and all this stuff that they didn't care for, and the kids there loved it. We were like celebrities. This camp had like five thousand kids in it and we'd be walking down the streets and we'd get stopped — it was really bizarre. By the end of the camp, we got a show at Café 939, which is a venue in Boston that's related to Burkley that musicians like Ed Sheeran and Hozier played at, and we got to and that was just so awesome."
THS: How would you describe your albums?
JV: "In April, 'State Street' came out, and it's definitely something I'm proud of; the whole thing flows together instead of just being a collection of songs. The music was very much my first attempt, and since then I've really learned so much more about the software and my own taste and how to make music. I think all art has that factor of what you see and what you get are different, and the main goal is to get those two things to be the same thing. In July, I put out another EP called 'Her Songs,' and it's a lot more in the vein of where I'm trying to go; it has more drum machines and sampling and that's just kind of the direction I want to go. I'm working on EP number three right now, and it's a lot different than what was on 'State Street', but I'm proud of everything."
THS: What are your plans for the future?
JV: "Right now, for this year, I'm just playing gigs and building up my resume. It's really hard to get gigs. Every couple weeks I send out emails to every venue in town, which ends up being forty emails. For a long time I'd send out those forty emails every two weeks, and no one would answer. But just recently, right after the Alice Cooper competition, I sent those forty out again, and I got three back. That's a huge deal. For two years I've gotten zero, so getting three back is so exciting. Two of them are this weekend and the third is in the spring. Next year when I'm off at college I'm sure I'll be doing the same thing no matter where I go."
THS: What's the biggest problem you've faced as a musician?
JV: "Definitely getting gigs. Getting gigs is really hard, in Phoenix especially. They're either only looking for cover bands or you need to pay to play. You gotta sell, say, fifteen or twenty tickets, and if you undersell, you gotta pay for the ones you didn't sell yourself. So they make you pay and then they'll let you play, which I'm not a fan of. Beyond that, it's just really hard to get people interested. There can be a night where I'm playing an electric show at an awesome venue with two other great bands, and like three people will show up. It's really hard to get people motivated to go out to shows, you just gotta get that initial motivation and get the ball rolling. There's a ton of people who tell me they love my music, but they're not coming to the shows, they're just streaming online sometimes. It's hard to get people to participate. There's this weird disconnect between local music and music. If the music's good, the music's good, and it shouldn't make a difference."
THS: How has music changed your life?
JV: "It changed my life in the way that it changes how I've viewed things. Not just music itself, but things I've learned about because of music. For example, when you dive into Leonard Cohen's lyrics, they're brilliant, but he has a book out, a couple actually, because he started out as a novelist before music, and because of his music I read one of his novels, and it just changed everything for me — how I view the world, how I view mortality, just everything. So music definitely brings new perspectives to the table and gets you thinking about human conditions and art and such. It's amazing."
You can see Joey perform this Friday, Dec. 9, at the Volstead Public House at 7 p.m. You can also check out his music on Spotify or SoundCloud under his stage name Joe Vito.