The Film Industries Are Alive with the Sound of New Musicals
"La La Land" is a new original musical released as a film, and it might just be the thing to relaunch the genre that has been buried by action and sci-fi films.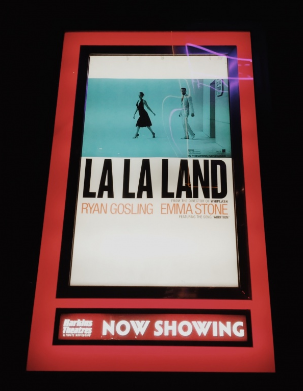 "La La Land" premiered at the Venice Film Festival on Aug. 31, 2016, and hit theaters at different times in December, and it has blown up. "La La Land" is a musical movie set in modern day Hollywood, starring Emma Stone as Mia, a struggling actress working as a barista, and Ryan Gosling as Sebastian, an extremely talented pianist who dreams of opening his own jazz bar. These two characters start out hating each other, but as the movie progresses you can see the obvious attraction, which leads to their struggles of trying to achieve their dreams in the competitive environment and still stay together. This melodic love story has won numerous awards at both the Golden Globes and the British Academy of Film and Television Arts (BAFTA), as well as several others, and is expected to at the Academy Awards. I was mesmerized by this visually stunning film, and I couldn't stop listening to the soundtrack for the rest of the week. When I left the theater after seeing the movie for the second time, I couldn't help but wonder: is this going to lead the way for future new musicals?
Musical movies were very popular in the 1930s, '40s, and '50s, but as time went on the genre quickly dwindled. The only full length feature musical films for the past two decades have either been Disney, Broadway shows being converted to the screen, or remakes of older movies – but then "La La Land" was released. My prediction is that this is going to be the start of the revival of original musical films, and there's even one in production right now: "Mary Poppins Returns," starring Emily Blunt, Lin-Manuel Miranda, and Meryl Streep. I'm extremely excited to see what the future holds for this magical and enticing genre, and I hope it will stick around for decades to come.