Horizonites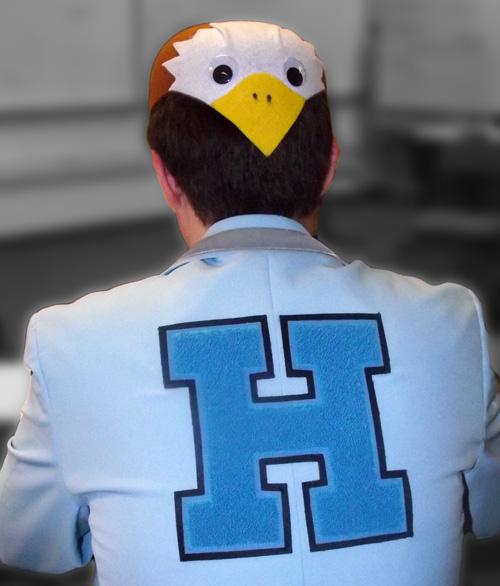 The Horizon Honors values are learn, believe, dream, and dare, and within the Horizon community there are many groups of students who embody those values. There are also many groups only found at Horizon, and together they coalesce into an entirely unique Horizon culture. A member of this culture is called a Horizonite.
The Honors Kid-These dedicated students strive for academic success, and if that involves beating fellow students on a test or pop quiz, they thoroughly enjoy it. Competition drives these students to do their very best, often sacrificing sleep and a social life for academics. Class rank creates resentment among some students as they may suffer a rank only because of a one-hundredth difference in GPA. To be eligible for the fierce class rank competition, no grade should ever drop below a "B". In order to maintain these impressive top scores, Honors Kids will scalp for points, defending their test answers or demanding an explanation for not receiving a higher grade. Scalping for points rarely ever succeeds in raising a grade by much, but students persist, always hoping to succeed.
The Clubbers-No, these are not the students that party and "live it up" each weekend, but rather, these students are infamous for starting and attending as many club meetings as they can fit into their week. There are a variety of clubs for students to choose from, but most of the attendees are unable to choose just one. He or she may belong to the Environmental Club, Wilderness Club, Newspaper, Video Club, Photography Club, Improv Club, or Harry Potter Club.
Drama Kids-Just one word can describe these lively persons–DRAMAtic. They express their love for life with loud, shining voices, energetic jazz hands, and animated facial expressions. Spending any amount of time with the Drama Kids will most likely brighten your day. Outbursts of song and dance will sporadically occur, encouraging more boisterous students to sing along. Such episodes also fill the chorus room all hours of the day; essentially, it is a less cheesy version of High School Musical.
BAND.-If there is one group that truly embodies the definition of family at Horizon it is the Band; Symphonic Band to be more specific. The musicians support each other in and out of class, discussing different pieces of music, hosting band parties, and showing band pride through their official Band T-shirts. The unity of the family is ever-present as the musicians create beautiful music under band director Mr. Murphy. Alone, without other band members, without a stand and an instrument, the band kids might seem insecure or  uncomfortable, but together they create magic.
The Athletes-Horizon's athletes are dedicated to their sport, but even more devoted to one day beating pseudo-rival Valley Christian. What makes Horizon athletes different from other high school athletes is that almost anyone can participate in sports, adding to the feeling of community. Drama kids, band kids, honors kids, any others are welcome to the athletics department. However, there is no football, and it is debatable whether cheer is a sport since more than half of our cheerleaders cannot successfully complete a toe touch.
The "Regulars"-Great, fun people who choose to be at Horizon, yet they have a social life and have the luxury of choosing an early bedtime. This is because they do not take the honors courses, which means they aren't obsessed with the decimal points of their GPAs. This group brings much diversity and fun to the Horizon campus.  Not bogged down by academics and stress, the "Regulars" create balance with their sense of "normalcy." Instead of reviewing APUSH chapters or debating the controversial mosque, they chat about the new couples attending Homecoming.
The Transfers-Students sent to Horizon, generally from Desert Vista or Mountain Pointe. Attending Horizon was not their choice and they often resist embracing the Horizon "culture." They are "way too cool" for the small school. A K-12 environment is not their preferred situation. Sometimes these students are posers, pretending they are bad to the bone. They might brag of questionable business transactions they've set up or of their time as the Fight Club leader. True Horizonites will see right past the Transfers.
The Lifetime Horizonites-These ladies and gentlemen have attended Horizon since they were young. Now, they know every student, teacher, administrative employee, and janitor from K-12th grade. Where else but at Horizon do high school students babysit their former first grade teachers children? To these students Horizon is not a second home, but simply home. Graduating will be harder for them than most other seniors.
Together, these groups are what make Horizon amazing, nerdy, fun, and different. Without the diverse Horizonites, 16233 South 48th Street would just be another building where you receive an education, but instead it is a community of people, some with similar interests and tastes, or others with new unheard of ideas. This is a place where people are free to be themselves, and amazingly they find others as weird and quirky as them.