Great Gatsby, Great Prom
Prom 2023 was an extravagant night.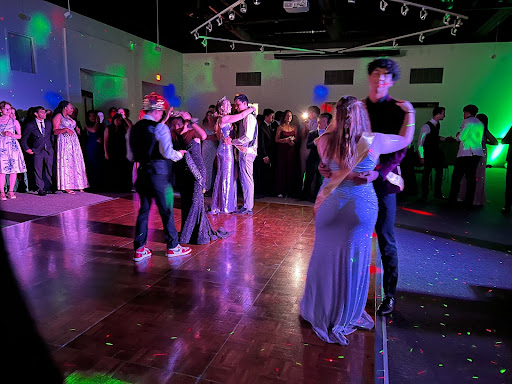 A century later, the Roaring Twenties are still an incredibly popular time period aesthetically. It is fitting, then, that this year's prom theme would be based on a classic taking place in the 1920s, especially in the 2020s. Horizon Honors's 2023 prom dance took place at the Stonehouse Pavilion venue of the Phoenix Zoo on Saturday, May 13 from 7 to 11 p.m.
Most students liked this year's theme, especially since it was a fit for many different outfits. The decorations and party favors were also popular. There was a light-up tree with fake pearl necklaces to mimic Daisy's jewelry, an important symbol in the book "The Great Gatsby." There was also a snack table with various delectable desserts, such as chocolate strawberries and different candies. The party favors were small masks with "Prom 2023" written on them.
As always, there was some controversy with the music. Some students said that it was fine or even enjoyable while others didn't like it. Faith Hamer, a junior, said that the DJ should have taken more recommendations from students. Personally, I feel that some of the music was difficult to dance to, especially in long dresses. Overall, DJs should look to recommendations from students to see what music is popular or desired.
As for the venue, some might say it was a bit small. The dance floor could get crowded very easily and, at most points during the dance, it was either too crowded or fully empty. It would have been nice to have more outdoor space as well, for people who wanted to walk around outside the dance floor at times.
Students voted for their class royalty as they entered the zoo. Prom royalty danced towards the end of the night, as customary. The students who won royalty were Lola Hill for junior princess, Gael Pacheco Gimenez for junior prince, Daniel Acuna for senior prince, Hailey Johnson for senior princess, Adrian Rodriguez Rivera for prom king, and Erica Mandadero for prom queen.
This year's prom was amazing. The theme, decorations, and party favors were great. The music played continues to be controversial, and next year, Student Council might consider a different venue and more fun themes. All in all, this year's prom was as great as Gatsby himself.