Hard Work Pays Off for Cici Collins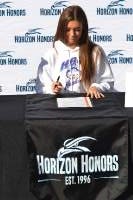 According to the National Collegiate Athletic Association, "only 1.2 [percent] of all high school volleyball players go on to play at a D1 collegiate level." For some, this dream of playing at the next level is diminished by the competition at the high school level, but for students like senior Cecilia "Cici" Collins, this dream becomes a reality. Earlier this week, Collins signed her letter of commitment to play volleyball for Houston Baptist University (HBU). "I'm excited to go to make an impact as a freshman," said Collins.  Her senior season, Collins posted phenomenal stats, recording 360 kills, 241 digs, and 37 aces. The stats she posted, along with the incredible season played by other Eagles, helped Horizon Honors be ranked 29th out of 261 high schools in Arizona. "After winning a state championship, Horizon Honors was already on the map and coming away with a great season was a win for the school's volleyball organization," said Collins. Great achievements like these help out Horizon Honors' sports and shine a great reflection on the school itself.
The Horizon Sun: What first got you into playing volleyball?
Cici Collins: My dad said "pick a sport to focus on one." I was, like, eight at the time and was playing four sports at the time. I picked volleyball and here I am now.
The Sun:   How did you know you were ready for club volleyball?

CC: The competition started picking up and I just felt that I was ready for club.
The Sun:  What was the toughest challenge that you have ever overcome in your volleyball career?
CC:  I'd say the injuries I've had to overcome; I broke my foot twice and my ankle once.
The Sun:  Do you have any other aspirations for volleyball after college?
CC: Right now I'm focusing on becoming a record breaker in college and playing to win. After that, I'm not sure what I want to do with my volleyball career, but my life goal is to become a personal trainer.
The Sun: Why did you choose HBU?
CC: I was able to get four years of college paid for, both of my parents went to college in Texas at TCU, and alongside all of those things, I loved the atmosphere in Houston and everyone was so nice to me.  
The Sun: Did you ever consider committing somewhere else?
CC: I was looking at Campbell, Mercer, and the University of Houston but HBU was my favorite.
The Sun:  Quick little fun question, favorite song to listen to before games?
CC:  "Mercy" by Kanye West 100 percent; it's a team thing.
With hard work comes great success, and Collins is a visual of that saying. Being able to move on to the next stage in life and doing something you love to do is the accomplishment of a lifetime.