Fly Me to the Moon (or to Homecoming 2023)
Horizon Honor's 2023 homecoming dance was a night to remember.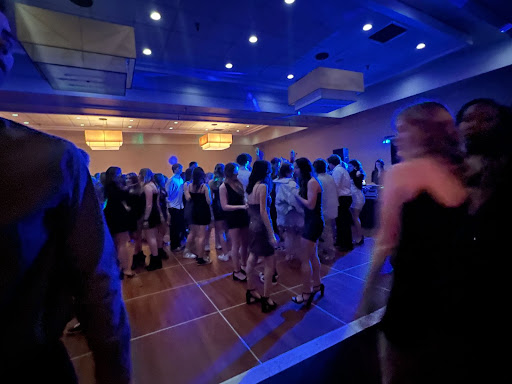 The "Fly Me to the Moon" homecoming dance took place on Saturday, Jan. 28 at Four Points by Sheraton. The dance was from 7 to 11 p.m, with the homecoming royalty slow dance around 10:40 p.m.
The dance was enjoyable and very energetic. A lot of students were excited to be there and had a great time. For decoration, the table centerpieces were of moons to match the astronomy theme. Zoe Hertz, junior, suggested that there could be chair sashes or chair bows for more decoration. Students seemed to agree that the theme for this year's homecoming was well thought out, and they hope to see more themes like this. Almaze Lee, a junior, mentioned that Student Council does a good job picking out themes, describing this year's as "top-notch."
A few students agreed that the music was good at this dance but could've been better. Maybe DJs could include more of the students' recommendations for songs in the future. Personally, I think the song choices were relatively well chosen considering that students' music tastes are very different.
In the middle of the dance, the lights suddenly turned on, which was a bit strange. The cause for that seems to be unknown, but it didn't turn down the energy or affect the dance much at all. Other than that, the lighting was similar to any other dance. I think it would have been cool if they could've somehow matched the lighting to the theme with a star light projector; however, there are many limitations to what Student Council is able to do with school dances.
Towards the end of the dance was the Homecoming court slow dance. Those who danced at this time were Sara Rogers and Ben McShane, Daniel Acuna and Hailey Johnson, and Kalyn McLeod and Brandon Dosen. Some of the homecoming royalty were missing at the time of the dance, possibly having left early. Junior Prince Aiden Milsap danced with Wayne Johnson, though Johnson was not nominated for royalty.
Overall, the homecoming dance of this year was incredibly fun, and we are excited to see how prom, on May 13, is going to compare. Although there were some shortcomings, homecoming 2023 was truly amazing.