The Most Dominant Program of All
The Sooners are statistically the best softball program out there.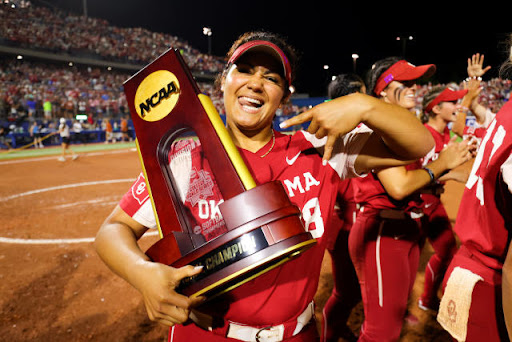 The University of Oklahoma (OU) softball team has been set out as the best program seen. The Sooners have won two collegiate world championships two years in a row with coach Patty Gasso, who has been coaching at OU for 28 seasons. OU is the team that everyone wants to beat, if they even get the chance; OU's hitting is so consistent that they rarely give their opponents a chance to come back.
Oklahoma also has an advantage. They had Jocelyn Alo, who, according to ESPN, was named this past season as the "homerun queen." She set a new record of being the first college softball player to hit thirty home runs in each season. It has been said that throughout all of her home runs, Alo has jogged 5.4 miles around the bases. She is a dynamic player who thinks outside the box. If Alo hit a home run off an inside pitch, she already knows what the pitcher might throw next. She has learned the true mental side of the game.
Alo graduated last year, so it will be interesting to see if she is a great loss to the team's success. But OU has been bringing in some new faces that will surely make a change. They have so many players that are dominant and have been waiting for their spotlight, which they will get. OU focuses on their players' mindsets and confidence, mental health, and of course their strong athletic sides. Oklahoma is a well rounded program that is continuing to show dominance.