The Commonality of Eating Disorders in Figure Skating
The art of figure skating can also do a lot of damage.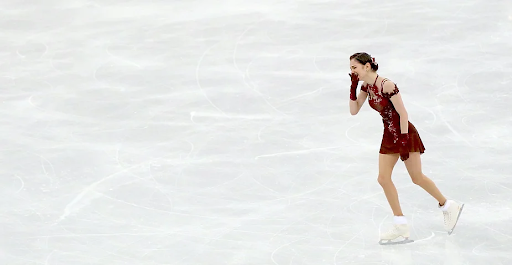 Figure skating has been around since the early 1900s and involves skating on ice. There are many variations of the sport, including ice skating, ice dancing, pair skating, and synchronized skating. Figure skating is known for its beauty, with breathtaking performances, gorgeous outfits using inspirational teamwork and bonds. However, there is a dark side to the sport: eating disorders; Newsela states that eating disorders are very common in figure skating. In fact, figure skating, dancing, gymnastics, equestrianism, wrestling, and bodybuilding have the highest rates of eating disorders in the sports world according to Eating Disorder Hope.
A skating routine is not just about the combinations of moves, tricks, and skills. It is about the music, dance, and costume as well. In some skaters' minds, their figure is involved. That can be consequential for their mental health. Frequently, figure skaters have to quit their sport because of all the negative impacts it has on their physical and mental health.
Many skaters have opened up about having to quit because of where they are in their eating disorder, meaning they're in a dangerous state keeping them away from being able to figure skate.  According to Walden, Olympic figure skater Adam Rippon compares himself to other male performers. He feels like the smaller or thinner you are, the easier it is to jump. Many factors, though, go into jumping on the ice; one's own body is not the first thing someone should be thinking of before they get on the ice.
According to Slate, figure skating has dominated young skaters in Russia, mostly females. Their coaches put a lot of pressure on them to be perfect.  Skaters will poorly diet to become someone they think the judges would prefer. Eating way less calories than they should and over-exercising a ton is a common result.
Figure skating is an amazing sport that should be enjoyable without anything toxic getting in the way of the enjoyment. All of the pressure, fears, and ideals of the art form that is figure skating contribute both to its overwhelming beauty and the dangers involved in it. By raising awareness for the mental side of the sport, its performers can know that they are neither alone nor hopeless; leaving it all out on the ice doesn't have to include calories.