Fight Crime and Oversexualization
The depiction of today's superheroines just isn't cutting it.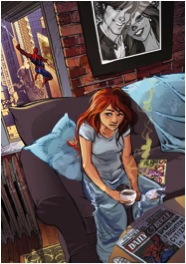 I love comics a lot more than it is probably healthy.  But one of the things I really hate about reading them is the depiction of the females.  For the most part, they either wear uncomfortably tight suits (which make me claustrophobic just looking at them) or swimsuits, which is never a fun outfit to fight crime in.  It's all so unnecessarily revealing.
I'm tired of seeing Tigra prance around in a bikini, claiming that all women were meant to go about daily life in a skimpy costume.  But there's absolutely no need to create an inhumanly sexy character.
The reason for that is one word: objectification.  Women are molded into male comic artists' dream girl, who has both superpowers and is extraordinarily attractive and you have to wonder why.  That's because that sells.  I'm not saying all comic book readers buy the stories just to ogle at the ladies, but I do know that it can definitely play a part.
Females are used for revenue and lust.  That's the pattern I see in artists concerning their creation.  They are meant only to look attractive and provide a minor plot point.  I often find that that these ladies would make fine characters if not for their unrealistic proportions and cliche backgrounds, which often ruin the reading for me.
Going back to the costumes, I don't think comic book artists remember that armor is meant to protect the entire body.  I expect to see that woman dead by the end of a fight with aliens if the only thing her outfit covers is the bare essentials (and I do mean bare essentials).  And it's the exact same thing for men.  I'd prefer not to see them running around shirtless, lest they get shot or stabbed.  I can understand why they would indeed wear something form-fitting, but I don't believe that a latex "second skin" is really necessary.  Dancers must be able to move in their outerwear, so a leotard and tights is certainly acceptable.  But when the outfit is tight enough that it outlines even your navel, it begins to restrict movement.
I don't want some amazing characters to go to waste because of this issue.  A woman should be allowed to dress how she wants, but I don't know many that would dress like today's superheroines.  Some say it's still a man's world, and with characters like these, I really have to agree.