First Cross Country Meet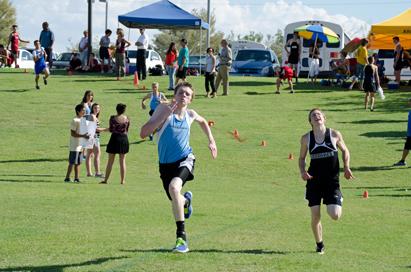 The Horizon Honors Cross Country team had their first meet on Sept. 4, and the students came prepared to start out the season with success. The event was held at 4:30 p.m. in 100 plus degree heat, which was a challenging meet to start the season.
The course was approximately three miles, snaking through the Scottsdale Sports Complex and the grassy park accompanying it. The trail covered almost all of the available terrain for the runners to test themselves on. It started on the soft and spongy grass of the soccer fields, then circled around to the loose dirt and gravel, followed by the concrete paths that outline the park.
The runners that completed the course did so with great admiration from the observers. Some students struggled through dehydration, overheating, and various injuries. "When I first started, I felt like I was going pretty fast and that actually felt really good… I felt fine, but when I went down the first hill my knee cap slid out of place and I had to stop," said junior Lauren Lauzon after she had finished her run.
After completing the course, the runners were relieved to be greeted by air conditioning and cold water. This run took a minimum of twenty minutes for each person to complete and everyone was in dire need of some rest.
The Horizon Honors team will now go back to practicing and preparing for the next meet, on Sept. 11.