A Little Night Music
It's that time of the semester again- students display their stage talents in the Performing Arts Exhibition, or PAE.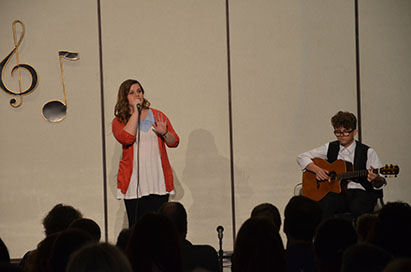 On Thursday, Oct. 23, in the MPR at 6 p.m., a total of 63 students, from fifth to twelfth grade, gathered behind the stage to practice for their acts. Some quietly warmed up their voices, several tuned their guitars, some made small movements reenacting the scene they're about to perform. All of this pre-show excitement was concealed by the sliding doors and hubbub of the audience.
The students have been working for the first quarter of the year, and the auditions were from Oct. 13 to 16. The students within the 30 acts have made the costumes, found their music, and choreographed their acts. At last, their efforts were rewarded- a spot on the playbill for the Performing Arts Exhibition, or PAE.
After a considerable amount of  time for the performers to warm up, band teacher, Mr. Murphy shushed the students and then walked out onto the stage. He greeted the audience as well as shared with them the integrity of the PAE and they quieted, excited to see the performance. Mr. Murphy exited the stage, and an expectant silence came over the seats. The baby that always seems to be at every public performance whined but was silenced by their mother. At last, seniors Karley MacArthur and Andy Hanke took the stage, performing "Today is Beautiful" by David Dunn.
There was a smorgasbord of acts, from monologues to pop, with a wide range of instruments. One performance, done by seniors Chris Westersund, Hayden Feller, and Evan Rosser along with two juniors, Jarod Taylor and Ben Bitzko, used a violin bow on a singing saw in their performance of "In the Aeroplane Over the Sea." Stephanie Clark, an eighth grader, sang a comical song titled "Taylor the Latte Boy," a romantic story of a girl and the boy who is her cashier at the local Starbucks. Two seniors, Elizabeth Gauntt and Navrose Randhawa, sang "Hakuna Matata" from "The Lion King," the only instruments being a pair of egg shakers. Two brothers, fifth and sixth graders Canyon and Xander Steverson, sang Justin Bieber's "Never Say Never," adding their own rap in the middle. Senior Beth Heaton devoted her act, "Sittin' on the Dock of the Bay," to her father, while sophomore Joey Vitagliano accompanied her on guitar. There were sibling duos, quintets, songs from operas, anything that goes under the phrase "Wow!" was there.
Sophomore Mykah Hernandez, who performed "Fix You" with Andy Hanke, seemed to enjoy the festivities. "[The PAE] was really fun… It's nice just showcasing what I can do." The PAE is eagerly awaited for every semester, and for a good reason.