Ninja New York Restaurant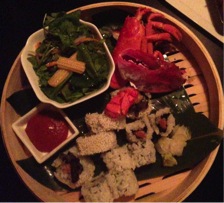 Ninja New York is a one of a kind dining experience. Located in New York City, one would assume that it would be a little over the top, and it most certainly is. Ninja New York is a dark, mysterious, yet exciting restaurant to choose for a night out. The little all-black room with a small desk and an elevator is the first room you see when you walk in. You are then sent up the elevator and through a dark tunnel room with only a few lights to guide you.
Once you make it through the tunnel, you are inside the actual restaurant. It is like you are trying to navigate through a maze just to get to your table. All of the waiters are dressed as ninjas with fake samurai swords and masks. They serve you Japanese soda and have a phenomenal variety of different authentic Japanese food that they make in front of you. Ninja waiters are literally jumping down from the ceiling and scaring you with rubber ninja stars.
The experience was both scary and exciting. It might seem like it's not fun to be in a dark room with strange men dressed up who pop out around every corner and trying to scare you, but it's actually a lot of fun! I promise that eating at Ninja New York is truly something that you will never forget. The food was great, and so was the service. There wasn't a single thing wrong with this establishment except for the fact that you could barely see your hand in front of your face. Next time I am in New York, I will most certainly be going back to Ninja New York for the unique dining experience.