"Komi Can't Communicate": Brand New Series on Netflix
An older manga series from 2016 has left many fans in shock after returning with a fresh anime adaptation.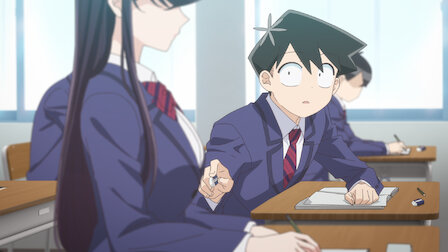 Recently, one of the latest romantic comedy anime, "Komi Can't Communicate," has found its way on the Netflix homepages of many anime fans. So far, only three episodes are out; a new one is released every Thursday. It's one of the first weekly anime on the platform, which differs from its usual style of releasing the entire season at once. Despite its short arrival, it has made an enormous impact on the romantic shoujo anime industry.
The series follows Shoko Komi, a beautiful girl with overwhelming social anxiety. Everyone adores her and thinks of her as prestigious. However, they don't know that she hasn't been able to utter a word since her early childhood.
Tadano is a total nobody starting high school, which he doesn't complain about. However, he soon gets to know Komi. Lots of people envy him from a distance, making him lots of enemies. Still, Tadano is set on helping Komi achieve her childhood goal of making 100 friends.
The series overall is about the misadventures of Tadano and Komi, and all the other strange high school students they meet. So far, talkative Najimi and shy Agari agree to help Komi out as well. She still has 97 left; it takes quite some effort to form that many bonds.
Komi's story contains twenty-three manga volumes in total. In AnimeJapan's official ranking, placed in 2020 for highly wanted anime adaptations of popular manga. "Komi Can't Communicate" made first place on the list to be hyped up for an anime adaptation. Fans are enthusiastic about Komi and friends' big return after animators worked on the project for several months since last year.
The bizarre humor is more unique when being compared to most anime, which draws people into it. Common character tropes, such as the shy girl and the noisy side-character, are twisted into an intimidating perspective. It's rare that creators can successfully put an original spin on overused character personalities.
Komi has the potential to become an even bigger sensation in the West. It's only a simple matter of what direction the series takes.