"Toilet Bound Hanako-kun": Manga and Anime Comparison
This beloved anime and manga series written by AidaIro took the anime community by storm.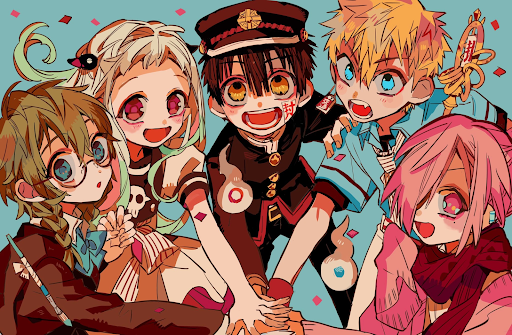 Also known as "Jibaku Shounen Hanako-kun," "Toilet Bound Hanako-kun" (TBHK) is a thrilling tale about Kamome Academy and the mysterious paranormal "Seven Wonders" rumored by the students to have strange powers. One of them is "Hanako-san of the toilet," the seventh wonder haunting the girl's bathrooms upstairs. He's said to grant wishes to those who summon him for a fair price.
Hanako's story escalates once Nene Yashiro asks him for help with her crush on an older high schooler, Teru Minamoto. As the story progresses, Yashiro becomes Hanako's assistant. She occasionally is assigned to clean the surfaces of the bathroom after school by her ghost friend, but also takes down the powerful status of the other supernatural school wonders by his side. They join forces with the mediocre exorcist boy, Kou Minamoto. Even very early in the series, a love triangle develops between Kou, Hanako, and Yashiro. Many fans into the fighting action of supernaturals and the bittersweet romance enjoy this aspect.
"Toilet Bound Hanako-kun" manga started back in July 2014, but the anime didn't start airing on television until January 2020. The manga is 17 volumes currently, but it remains unfinished. It's been almost eight years since starting, but it still thrives in popularity. Yashiro and Hanako have become increasingly popular icons since then.
The art style in the anime stays true to how fresh it feels in the manga. It's unique,especially creating diversity between other shows. However, the story arcs within the episodes are very fast compared to the manga. Many fans binged the show in just a day or two. The quick moving plot allowed for fans to be hyped for when a second season arrives. It's quite unfortunate that anime-only watchers see only a third of the entire story. Though, most TBHK lovers saw both the manga and anime so they could catch up on the most recent plot twists.
Few parts were changed in the TBHK anime adaptation overall. Many other older anime adaptations can go poorly sometimes. This happens when show writers decide it needs unnecessary changes and cut out story arcs. It happens especially in English voice-overs of anime shows. Horrible efforts make for a horrible project. It's lucky that "Toilet Bound Hanako-kun" didn't go down the same path with its writers pouring lots of love into it.
Despite fast pacing, the elements needed to create a successful story were shown through both the manga and the anime. Many fans are plenty excited for when AidaIro finally comes out with a second season expected to be out sometime next year. TBHK truly has earned its fame.