Delicious Oatmeal Jam Bars
These jam bars are perfect for a healthy, easy to prepare, and delicious snack that will make you wish that you knew about it sooner.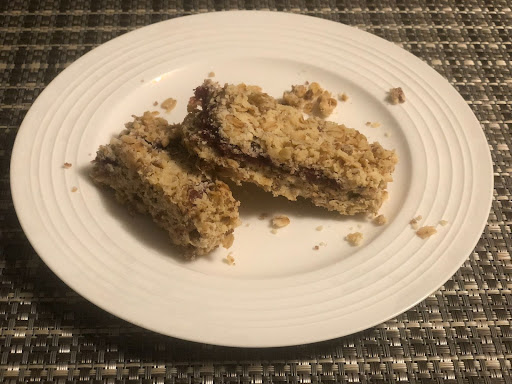 Ingredients: 
1 ½ cups all-purpose flour

½ cup firmly packed golden brown sugar

1 tsp salt

1 tsp baking powder

¼ tsp baking soda

12 Tbsp of cold unsalted butter, cut into cubes

 1 ¼ cups old-fashioned rolled oats

¼ cup ground pecans or almonds

½ cup raspberry jam, homemade or purchased. Any jam works 
Directions:
Preheat oven to 350℉. Butter a 9-inch square baking pan or dish.
In a large bowl, stir together the flour, brown sugar, salt, baking powder, and baking soda until combined thoroughly.
Scatter the  pieces of butter  over the flour mixture and cut into the butter with a pastry cutter or two kitchen knives until the mixture is moist and crumbly.
Add in the oats and nuts and mix evenly.
Press two-thirds of the dough into the bottom of the prepared pan. Spread the jam evenly over the top. Crumble the remaining dough evenly over the top and press down lightly.
Bake until the top is golden brown, 35-40 minutes. Let it cool completely in the pan or place it on a rack to cool, then cut into bars.
These bars are perfect for a snack on the go, easy to make, and are really healthy. Enjoy!