Middle School Travel Club's Trip to Washington D.C.
Members of the Middle School Travel Club had lots of fun on the trip to Washington D.C. over spring break!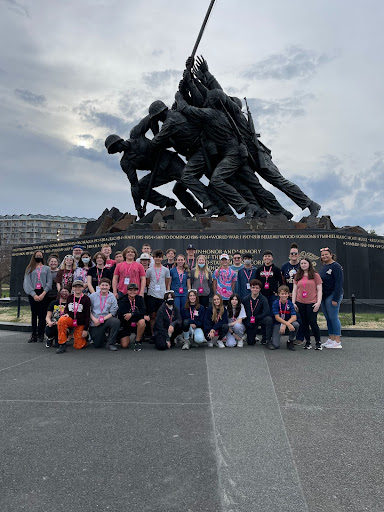 Matlyn McShane, Columnsit
April 8, 2022
Over spring break, Horizon Honors Middle School Travel Club took a trip to Washington D.C. They traveled all over D.C, and even ventured two hours out of it to visit Jamestown. Students had lots of fun on the trip, getting to see historic landmarks and make memories with friends.
The trip consisted of seven total days, two of which were travel days. While in D.C, students saw the Lincoln Memorial, the Washington Monument, the Jefferson Memorial, the MLK memorial, and all the war memorials. When they traveled down to south Virginia, they visited Monticello, Thomas Jefferson's house, and Mount Vernon, George Washington's house. They also saw the White House, and the Library of Congress. They walked by the Capitol, but couldn't get in because of security reasons.
After the sun went down, students and chaperones would visit night attractions. They went to ARTECHOUSE, an attraction featuring moving screens and projections. Another night, they went to Ripley's Believe It or Not! Museum. A night tour of memorials and the Washington Monument happened on the first night.
They visited museums such as Planet Word, the Smithsonian National Museum of Natural History, and the Arts and Industry Museum. While they were in Virginia, they visited Williamsburg, as well as Jamestown, a living museum recreating daily life in the 1600s settlement. They also went to Arlington National Cemetery, where President John F. Kennedy and many American soldiers are buried.
Below is an interview with Ms. Davis, the head of the Travel Club:
The Horizon Sun: "What was your favorite part about the trip?"
Jessica Davis: "I think my favorite part this time was Monticello and doing the house tour and the grounds tour."
HS: "Do you think you'll continue to do these trips?"
JD: "Yes. Absolutely."
HS: "What's your favorite thing to see in DC?"
JD: "Cherry blossoms. It happens so rarely when we're there. But also the Jefferson Memorial."
HS: "What was your favorite thing that was new this year?"
JD: "Planet Word! Planet Word was so cool, I loved the word wall."
DC is a great place to learn about national history. The students had a lot of fun traveling and seeing new things, as well as making new friends and memories.