Starting State Off Strong
Horizon Honors take on and win against Pinon, allowing them to move on to the quarter finals.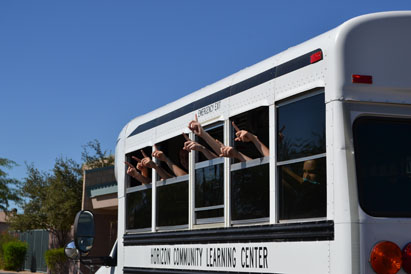 Nov. 6 marks the beginning of the State Championships for Arizona high school Division IV volleyball teams. Games took place at Prescott Valley Event Center and will continue on until Saturday, Nov. 8.
Horizon Honors started the tournament off with a win against Pincon High School. In the first set, sophomore Joli Sadler, number five, put the eagles in the lead right from the start. Her continuous aces gave the girls on the court and on the bench the energy needed to keep playing hard. The score was close throughout the entire set, but in the end Horizon Honors was able to pull out a winning score of 25-24.
The team came out in the second set stronger than in the first, and were able to maintain their lead throughout the majority of the set. The the two outsides, seniors Savannah Cunningham number seven and Timberlyne Ziuraitis, number 22, were key factors in the team's victory. Both players got multiple hits and digs throughout the game. The set ended in Horizon Honors' favor with a score of 25-19.
The final set was the quickest of the three. Ending with a score of 25-12, the Eagles were able to fight through the entire set. With only few mistakes, the team's array of well-placed shots & scrappy plays earned them a win they deserved.
Horizon Honors will be playing in the quarterfinals tomorrow, Nov. 7.