First of Many
The LSU Tigers beat Iowa in a very competitive final March Madness match.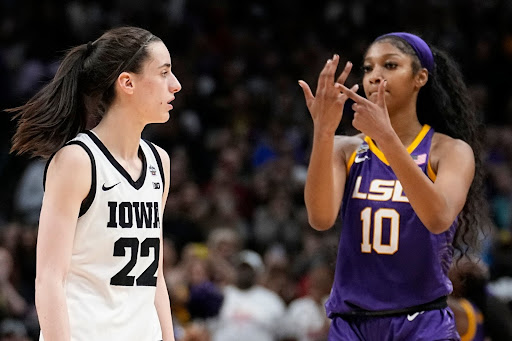 March Madness is a highly popular collegiate basketball tournament. This year's final match between Louisiana State University (LSU) and the University of Iowa was one of the most viewed National Collegiate Athletic Association women's games in history. The match took place on Sunday, April 2, and it drew in a total of 9.9 million viewers.
The final match was very competitive; Iowa became a fan favorite with one of the top players Caitlin Clark, while LSU had the unstoppable Angel Reese. The LSU Tigers knew coming into this game that they had to play lockdown defense and unstoppable offense. This they did, and according to FiveThirtyEight the Tigers won the battle of points because of that. But also had a good average of threes throughout the game.
Clark became a fan favorite throughout the tournament. She had been known for her trash talking and celebrations to turn up the game. However, she also brought attention to her unbelievable game. According to CNN, she had scored an average of 41 points per game, breaking the record of points scored in a women's tournament. This had the media going crazy, with popular athletes posting about her causing her fan base  to grow in a week.
According to CBS, some players are still receiving criticism after the game. Reese, the star of LSU, has been targeted by many fans. She had seemed to be making gestures throughout the game to target Clark. She pointed at her ring finger and put her hand up as though she was saying "you can't see me." This made many people upset, saying that was unsportsmanlike, but Clark days after the game came to Reese's defense. Clark stated that trash talking is a big part of the game, and that she has nothing but respect for Reese.
This game has had a good and bad impact. LSU won its first women's basketball title, which they should be celebrating. Instead, the team has to defend themselves from criticism. On the other hand, Iowa became a very well-known basketball team, which gained them a bigger fanbase. The two teams are still currently working things out on social media to get things straight, and this game has created more drama than there should've been.