The Legacy of Katie Ledecky
Katie Ledecky is a legendary swimmer known for her Olympic gold medals and world records, as well as her advocacy for women's rights and inspiring others.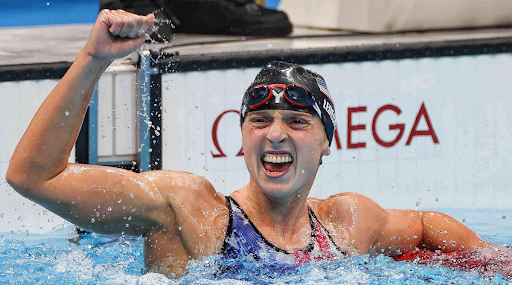 Katie Ledecky is a name that has become synonymous with swimming excellence. Born in Washington, D.C, on March 17, 1997, Ledecky has become one of the most accomplished female athletes in history. Her journey to success began at a young age, and since then she has inspired millions with her hard work, dedication, and remarkable achievements in the sport of swimming.
Team USA states that Ledecky began swimming at the age of six and quickly displayed a natural talent for the sport. At just 15 years old, she qualified for the 2012 London Olympics, where she won a gold medal in the 800 meter freestyle event. This was just the beginning of a long list of accomplishments that would define Ledecky's career. Over the years, Ledecky has won a total of 10 Olympic medals, including seven gold and three silver. Five of the gold medals were won at the 2016 Rio Olympics. She has broken world records numerous times, particularly in her favorite event, the 800 meter freestyle. Her Olympic success and world records have made her a household name, but Ledecky's accomplishments go beyond her medals and records. She has inspired young swimmers and female athletes all over the world with her hard work, dedication, and determination.
After dominating the swimming world in high school and on the international stage, Ledecky began her NCAA career at Stanford University in 2016. In her two years at Stanford, Ledecky continued her winning ways, setting 15 NCAA records and leading her team to back-to-back NCAA titles, explains Sports Keeda. Ledecky's success at the NCAA level is a testament to her hard work and dedication. She is known for her rigorous training regimen, which includes swimming up to 10 times a week, says E News. Her focus on technique and attention to detail have allowed her to continue to break records and inspire her teammates and competitors alike.
Off the pool deck, Ledecky has used her platform to inspire others and advocate for important causes. She has been a vocal advocate for women's rights, and she has worked with organizations such as the Women's Sports Foundation to promote equality in sports, states Swimming World Magazine. In addition to her advocacy work, Ledecky has also inspired young swimmers with her positive attitude and hard work. She has often spoken about the importance of setting goals, staying focused, and working hard to achieve one's dreams.
Katie Ledecky is a true swimming legend, whose remarkable achievements have inspired millions. Her Olympic success and world records are impressive, but it is her hard work, dedication, and positive attitude that truly make her a role model for young athletes. With her NCAA career now behind her, Ledecky continues to break records and inspire others in and out of the pool. Her legacy will undoubtedly continue to inspire future generations of swimmers and female athletes for years to come.