Spring Fling Is Back in Business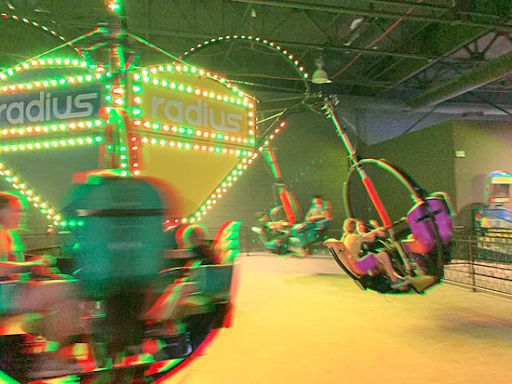 Horizon Honors students loved Spring Fling with the bouncy castles, mazes, face paint, rides, and food trucks out on the field. Sadly, there was an end to that but a new beginning at Jake's Unlimited!
Despite how many people loved the Spring Fling on the field, it was moved to Jake's Unlimited due to a "happy accident," as Betsy Fera states. "A couple years ago, while the field was being renovated, we needed to look for new options for the time being. Staff toured Jake's Unlimited and saw the new activities and decided to do it there. They then decided later that they wanted to continue it there because it is more available for different age groups, and staff didn't have to worry about weather (response edited for clarity)." This being said, the field renovation introduced Jake's Unlimited, and, since then, it has been much more enjoyable for different age groups than the field was.
The entry fee pays for all-you-can-eat buffet and fountain drinks until 9 p.m, unlimited laser tag, virtual reality for ages four and up, unlimited rides (36"or taller), unlimited billiards, non-redemption video games, and bowling with shoe rentals. Tickets can be purchased at the Horizon Honors website until Mar. 11. Tickets are only $30 with a $65 value! Prices for tickets will continue to rise as time goes on, so purchase them soon. Families that purchase tickets by March 11 will be entered into the sweet shoppe gift card and unlimited fun cards drawings!
The event is on Friday, April 1st from 4 to 10 p.m. and a private, alcohol-fee, Horizon Honors-only event, with no adult supervision for children. Non-Horizon Honors guests must be accompanied by a Horizon Honors family. Attendees aged 4 and up must purchase a ticket; children under four can eat the food and ride the teacups and carousel for free with a paid adult. There are no COVID-19 restrictions at Jake's Unlimited. Ticket pickup is on Friday, April 1 from 7:45 to 9 a.m. or at Jake's Unlimited at 4 p.m.
$15 Fun Cards will be available the night of the event at Jake's Unlimited for only $10! Fun Cards are perfect for redemption games for on-the-spot prizes, always-a-winner games, or one of the 140 arcade games. 50% of all Fun Card proceeds will benefit Horizon Honors.
Many Horizon Honors memories were made during Spring Fling on the field. However, Jake's Unlimited will create fresh memories and allow students to have a blast!