Superb Swim Team Opportunity
Swimming is an amazing sport, and you have the chance to join Horizon Honors's team.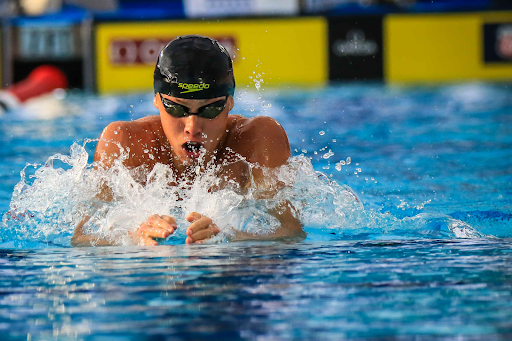 The 2021-2022 school year is coming to a finish, and students have several opportunities for next year. One is the chance to become a member of the Horizon Honors swim and dive team. The swim team and their head coach, Staci Smith, are seeking new swimmers for the upcoming school year. They are mostly looking for and recruiting current eighth grade students, but high school students are welcome to try out as well.
Joining and being a part of a team has various advantages. According to Public School Review, being on a team allows you to develop teamwork, leadership, and cooperation abilities.   Teamwork is vital since it allows your team to share ideas and duties, reducing stress and helping individuals, says Docket Hq. Being a member of a school team also allows you to represent your community and school. Swimming provides various physical and emotional benefits. It not only improves endurance, strength, and coordination, but it also reduces stress and promotes mental health. According to the USMS, 74% of respondents stated swimming relieves stress and tension. Swimming also helped over 70% percent of responders to feel psychologically rejuvenated.
Below is an interview with Staci Smith, the head coach, discussing the coming season and what it means to be a swimmer.
(Editor's Note: Responses edited for clarity)
The Horizon Sun: Why do you think high schoolers should join the team?
Staci Smith: High schoolers should join the team because it gives them an opportunity to meet new friends, because it provides a gateway to start their day off, and because it puts them in the right mindset.
The Sun: What attributes make a good swimmer?
SS: I believe a good swimmer is one that will listen to a coach for feedback and corrections, and do their best to do that, as well as doing the little things that make them more efficient.
The Sun: What non-swimming skills do swimmers gain from being on the team? 
SS: They learn to work with each other, have great sportsmanship, learn time management, and get more perseverant.
The Sun: When are tryouts going to be held?
SS: Tryouts will be held on August 8th, 2022.
The Sun: When will the season start? 
SS: There will be a week of tryouts from August 8th to the 12th, after which we will immediately start practices, and the first meet will be at the end of August.
The Sun: At what time and place is practice?
SS: We swim at the Ahwatukee Swim and Tennis Club on 48th and Warner. We practice Monday through Friday from 6:00 to 7:30 a.m.
The Sun: What are you most looking forward to next season?
SS: I am most looking forward to the new swimmers coming and seeing them grow throughout the season. I enjoy watching them reach their goals, like when a swimmer qualifies for state.
Swimming is absolutely beneficial and Horizon Honors offers a fantastic opportunity to become a part of the team. The Horizon Honors swim and dive team welcomes new members and would like to hear from interested swimmers. To do this, contact Mrs. Smith if you have any questions, comments, or concerns.