Flavorful Red Velvet Cupcakes
These cupcakes will make your day. They are an easy and succulent sweet!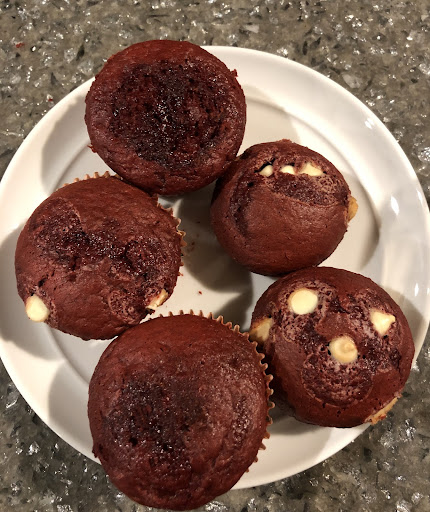 Red velvet is a delicious flavor known for cakes and cupcakes. This appetizing recipe is great if you're craving something simple. These red velvet cupcakes are soft, chewy and luscious.
Ingredients (serves 31):
2 boxes red velvet cake mix

4 large eggs

1 cup sunflower oil

2 1/2 cups water

½ cup white chocolate chips
Materials:
Large bowl

Baking sheets

Mixing spoon

Baking cups or spray butter

Spray butter
Instructions:
Preheat the oven to 350 degrees.

In a large bowl, mix in the cake mix, oil and eggs until fully combined.

Cover and refrigerate for 20 minutes.

Prepare the baking sheets by putting baking cups into each hole (I sprayed butter in the holes for half of them).

Pour the dough into each hole until almost filled, with some space left at the top. Sprinkle on white chocolate chips.

Leave the cupcakes in the oven for 14 to 19 minutes.

Take the cupcakes out of the oven and let them cool for at least 10 minutes.

Serve and enjoy!
These delicious cupcakes are fun and exciting to make. I ensure that these delectable treats will lighten up your day!